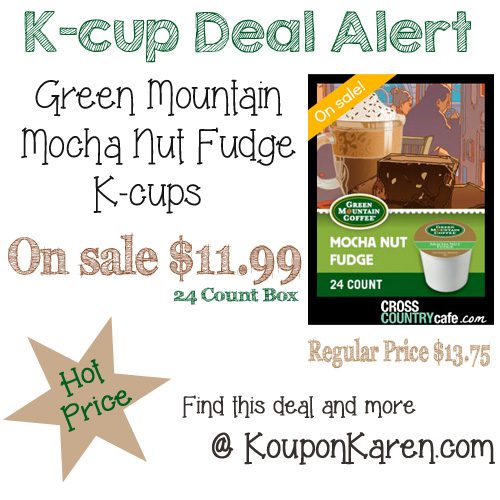 Green Mountain Mocha Nut Fudge K-cup Sale

Do you like a little chocolate flavor in your coffee?  If so check out this sale!  Right now at Cross Country Cafe you can get Green Mountain Mocha Nut Fudge K-cups for $11.99 for a Box of 24!  Mocha Nut Fudge is a decadent pairing of chocolate and coffee layered with roasted nuts and a ribbon of sweet caramel.
Sounds good, right?
Cross Country Cafe also has the following items on sale this week:
Twinings English Breakfast Tea is on sale for $9.99 per box of 24
Green Mountain Vanilla Keurig Kcarafe coffee is on sale for $7.99 per box of 4
Central Park Decaf Nespresso compatible coffee pods are on sale for $4.99 per box of 10
Check out the sale… HERE.  And when you spend $59 or more shipping is FREE!  So grab a friend and place an order!
Plus you can enter the Monthly Keurig K-cup coffee giveaway- each and every month they will be giving away full size boxes of Keurig K-cup coffee to one lucky winner!
This sale ends Tuesday 5/25/15 so SHOP NOW!
I personally don't enjoy a strong cup of coffee, but I know some do.  Want to know how to make a cup of coffee made with a K-Cup stronger?
Stronger Kcup coffee is a battle cry often heard from Keurig users. Everyone loves the convenience of one cup coffee brewing, the variety is second to none but, sometimes consumers find the coffee a bit on the weak side. If you belong to this school of thought, you have come to the right place.  Read more on the Cross Country Cafe Blog.