Product Name: Guardsman Furniture Care Products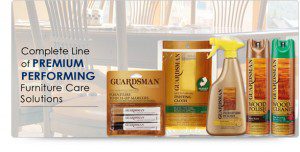 Product Information: Since 1915, Guardsman has been a leader in the furniture care industry. Guardsman's premium furniture care products include polishes and cleaners for wood, leather, and fabric furniture, as well as a complete line of furniture maintenance products for touch-up, repair and spot cleaning.
I received an assortment of products to try out including…
Purifying Wood Cleaner –  removes dirt, grime, and build-up left behind by some non-Guardsman polishes—leaves wood feeling clean to the touch again.
Guardsman's Revitalizing Wood Furniture Polish – available in aerosol, trigger spray and cream, actually helps hide the appearance of fine scratches—while drying to a rich, low-luster shine. Guardsman polishes contain no silicones or waxes which can cause unsightly build-up over time.
Dusting Cloths – washable and specially treated to attract and hold dust even without the use of sprays
Applicator Cloths – gently polish all wood surfaces.
Wood Touch-Up Markers and Liquid Touch-Up & Scratch Cover – available for both light and dark finishes, add instant color to hide surface scratches and minor blemishes to bring wood finishes back to life.
Ring and Stain Remover – easily eliminates minor blemishes from wood surfaces including rings, marks and stains caused by water, heat, alcohol, cosmetics and paint.
Guardsman Leather Cleaner – thoroughly cleans and renews the appearance of leather upholstery, helping to maintain its original look and feel.
Guardsman Leather Protector – creates an invisible shield that prevents premature aging and protects against irreversible damage caused by penetrating stains. Leather looks and performs like new–and cleaning is quicker and easier!
Purchase Information: You can purchase them online at Guardsman.com.
Our Thoughts: I will be very honest with you, I don't like to dust.  It's just boring to me.  However I like the finished look afterwards so I do force myself to do it.  We have our house on the market so I find myself cleaning more often.  I was very excited the day my Guardsman samples arrived because I was about to start cleaning that morning!  Perfect timing.
I grabbed the wood purifying cleaner first and headed into my bedroom.  It worked great!  I then grabbed the wood furnture polish and a dusting cloth and dusted everything.  I was so impressed and amazed at how long my furniture stayed dust free and shined!  It worked so well and I've been able to cut down on my dusting.
I'm excited to try all the other products.  I am sure after we move the Wood touch up markers will come in handy and once I remove everything off the furnture as I pack I am positive I'll find some rings or stains so I'm anxious to try the ring and stain remover.  If the wood cleaner and polish worked so well, I'm sure I won't be diappointed in the rest of the products.
Have you ever used any Guardsman products?  If you have share with me your experiences.
Disclosure: I received an assortment of Guardsman products for my review.  This did not influence my post and as always my words are my own!