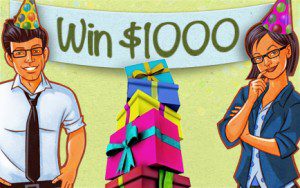 Swagbucks is celebrating their birthday today and in honor of that they are giving New members 110 Swagbucks when they join by February 27th. Just enther the code BIRTHDAYBASH12 when you join to get your additional 110 Swagbucks. since new members automatically get 30 Swagbucks when you join, that means you'll start out with 140 Swagbucks!
Make sure you use this link to join AND enter the code BIRTHDAYBASH12 when you are joining to get the extra swagbucks.
Swagbucks can be earned by doing your every day internet searches and can then be cashed in for CASH or PRIZES!