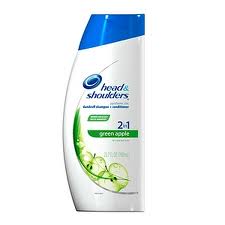 Product Name: Head & Shoulders Green Apple Shampoo & Conditioner
Product Information: This month is the official start of summer which means fun in the sun with lots of beach and pool time.  Arm yourself with important summer beauty care tips from Head & Shoulders Celebrity Dermatologist, Dr. Ilyse Lefkowicz to make sure this is a healthy and happy summer for you and the whole family!
Fun in the Sun
Anxious to try a new color or need to touch up your roots, but worried the summer sun will fade your shade? Lucky for you, Head & Shoulders is gentle enough to use every day and on color-treated hair. Head & Shoulders will help keep your color lasting longer and of course, your scalp healthy too!
Keep it fresh and fruity in the shower this summer with the NEW Green Apple Shampoo and Conditioner.
Don't Burn Out
We've said it before and we will say it again—the most important thing to remember this summer is to protect the whole family's skin from sun damage. Whether you're running out for a quick errand or spending entire day at the beach, always remember to apply sunscreen (Dr. Lefkowicz recommends SPF 30 or higher!) that provides protection against UVA and UVB rays to avoid damaging sunburn.
Keep it Cool in the Pool
Don't let chlorine limit you from jumping into the pool this season! While studies indicate that chlorine is most troublesome while hair is wet and that damage occurs after hair has long amounts of exposure, don't fret – we're here to help! Head & Shoulders Classic Clean has a deep-cleansing formula to leave hair looking and feeling clean post-swim so you don't have to worry about damaging your 'do.
After sun skin tips to try at home:
Sunburn Tips
Forgot your SPF at the beach? Cool milk compresses soothe the skin and help to retain moisture so sunburn can heal properly. Over-the-counter anti-inflammatory medications like ibuprofen aid in lessening redness and discomfort. Make sure to also keep your body (and in turn, your skin) well hydrated!
My Thoughts:   I absolutely love the smell of the new Head & Shoulders Green Apple Shampoo and Conditioner.  It was a very refreshing and made the entire bathroom smell so good.  The girls wanted to use it too.   I love when companies continue to make products that we love!
We spend a lot of time in the pool in the summer and I do worry about the cholorine and how it affects the girls hair – more than mine.  So I'm happy to hear that the classic Head & Shoulders can help with that so we will keep a bottle of it in the shower all summer long!
Have you tried the new Head & Shoulders Green Apple?
Disclosure: I received free product for review. My opinions are 100% mine.