While at BlogHer last week, I had a chance to hang with the Hershey's Chocolate crew in their S'mores Suite. They have one every year (at least for the past 3 years) and seriously BlogHer isn't the same without having some S'mores while we are there!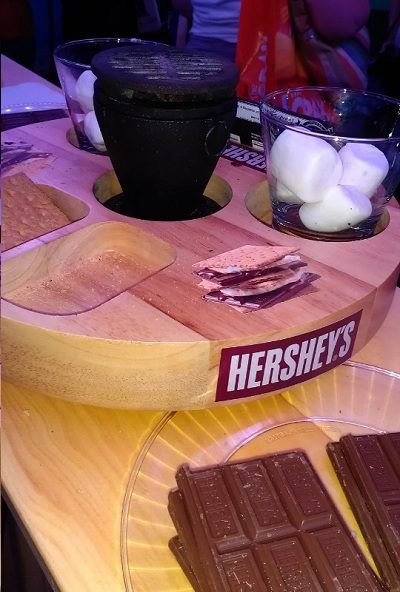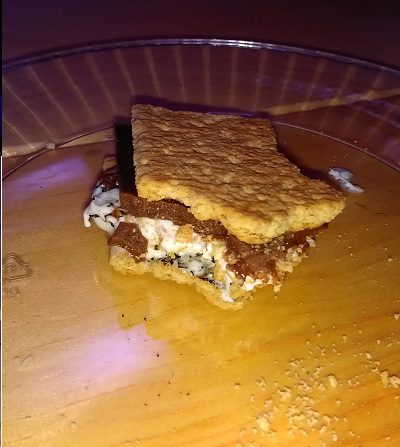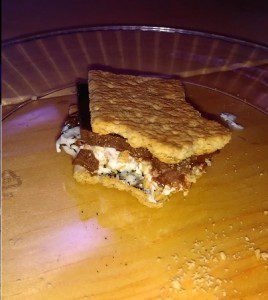 Each year the suite is decorated in a nice backyard theme but it always looks different. I really love what they did this year and the S'mores were excellent. They have everything we need to make our own S'mores and I was tempted to spend my entire lunchtime in there just eating S'mores but figured that probably wasn't the way to go for lunch.  But I did enjoy one (and an extra marshmellow too!)
Doesn't that look good ——————->
Check out how great I got the flame going on this marshmallow…. I love it when it get's nice and burnt!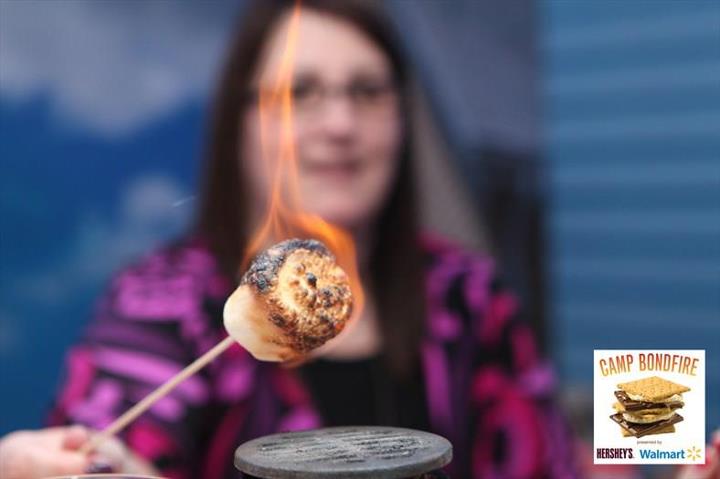 Today is National S'mores Day – Did you know that??  So you have permission to eat some today even if you are on a diet! One won't hurt!!!
S'mores fans can take the excitement of National S'mores Day online by visiting Camp Bondfire on the Hershey's Facebook page, an interactive application that helps families discover new ways to "bond" around the campfire and create S'mores-inspired memories all summer long.
Now through September 7, Camp Bondfire invites fans to enter for the chance to be named a featured "Camper of the Week" and win an outdoor fire pit. The application also includes a Fireside Memory Book for users to share their favorite S'mores-making photos and a downloadable $1 off coupon toward their next purchase of two standard six-packs of Hershey's milk chocolate bars on the Hershey's Facebook page while supplies last.
Do you want to win a fun S'mores prize package from Hershey Chocolate?  If you do enter below.  But you can also try to win one on my two blogging friend's blogs as well.  Visit them below because they are also giving away a S'mores prize pack – the same one!!
NicolesNickels.com
SheSaved.com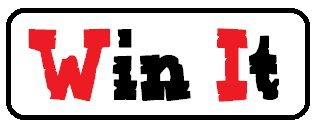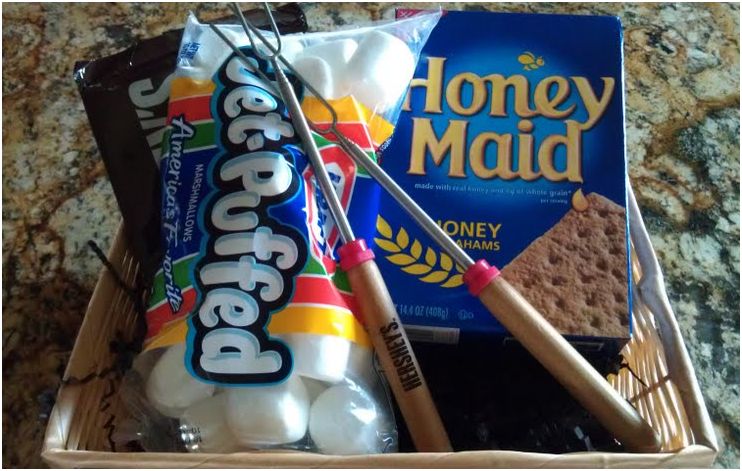 (1) Koupon Karen reader will win a Smore's Gift Basket like the one in the picture!


To enter the giveaway, use the rafflecopter widget below. You can now sign in with Facebook and it will remember you each time you enter another rafflecopter giveaway. Of course Facebook is in no way associated with this giveaway, the people of rafflecopter just want to make it easier for you to enter giveaways now.
As a reminder, comments left on Facebook or Twitter will not be included.
Disclosure: I received the same prize as the winner for review. My opinions are 100% mine.