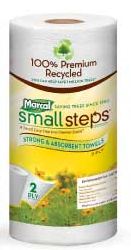 This is a deal you may or may not find at your Walgreens (YMMV) but it's worth a look if your heading there anyways.  There are quite a few HOT deals at Walgeens this week so chances are you will be there already.
Some stores have the 3 pack Marcal Small Steps Paper Towels on Clearance for $1.09.  Use the $1/1 Select Marcal Products, exp. 07-25-10 (SS 06/13/10) and you will get them for $.09 each.  If you have a few of these coupons then you'll score lots of CHEAP Paper Towels.
thanks For the Mommas!