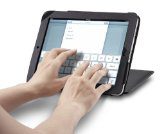 I know the iPad is all the rage right now and if you've scored yourself one, here is a great case/stand for it at a HUGE discount. You can get the Acase Deluxe Leather multi-view Case/Folio with Stand for Apple iPad
for onlly $14.00 today on Amazon. The regular price is$79.99 so your saving 82%!!
This price will probably only last until the end of the day today so if you want it grab it now!
Details:
Professionally Designed Case Holds Apple iPad Perfectly on all sides.
Has side snap closure and has opening for ipad light sensor
13 setting adjustable stand that holds iPad at an ideal angle for watching videos and slideshows or for typing on the onscreen keyboard
Secure flap to ensure ipad is safe when loaded into the pouch
Perfect for Carrying to Work or Traveling