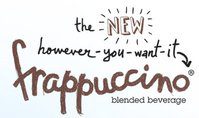 Starbucks is having a Happy Hour from 3-5pm on May 7th – May 16th where you can get the NEW however-you-want-it-Frappuccion blended beverage for 1/2 price!!
You can choose from Soy Strawberries & Crème, the Extra Coffee Caramel,  Mocha Light or create your own!
Go here to find a location near you.
thanks Frugally Thrifty!