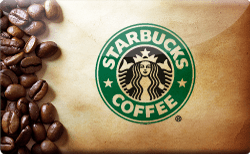 Hot Deal : Up to 20% off Starbucks Gift Cards + an Additional 5% off with Coupon Code
If you enjoy your Starbucks coffee fix you may want to check out the deals right now at CouponTrade for Starbucks Gift Cards!  If you aren't familiar with them you can save on discounted gift cards at CouponTrade.com to stretch your dollars and save on your coffee addiction!
Right now they have discounted Starbucks gift cards for up to 20% off the face value of the card. If you visit Starbucks regularly then you may want to purchase one of these gift cards to save money on your purchases.  They also make great gifts too!  Perhaps your Valentine??   Plus if you are new to CouponTrade and you use coupon code KOUPONKAREN at check out, you'll save an additional 5% on your gift card purchase.
Remember, It's FREE to purchase gift cards and you'll get Free Shipping on all Gift Card orders at CouponTrade so if you are already planning on spending money at a particular store, why not save even more by purchasing a gift card that is discounted!  I look at it as free money.  Who wouldn't want FREE money??