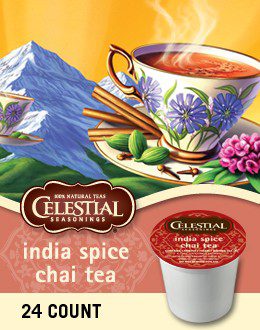 India Spice Chai Tea K-Cup Sale at Cross Country Cafe – Today Only
Another nice deal on K-Cups!
Cross Country Cafe is my new favorite K-Cup store and every Wednesday they have a Wacky Wednesday Sale.  They have lots of K-Cups at great prices but today's pick is at the best price you'll find on the site!
Today (10/10) you can grab the India Spice Chai Tea K-Cups for $10.99 a box.  These boxes have 24 K-cups, not the 12 or 18 that you find in the grocery stores.  So you are only paying $.45 a K-Cup.  Much cheaper than a coffee at your favorite coffee shop!
And if you use the coupon code FIVEOFF10812 you'll save five percent off everything on the site!
Grab yours now before they sell out!