The Jungle Book was originally made in 1967. I saw it years ago when I was a little girl, but the songs are still in my head many years later. I was pretty excited when I heard they were remaking a live action version and so were my kids. They knew the songs, but had never seen the movie.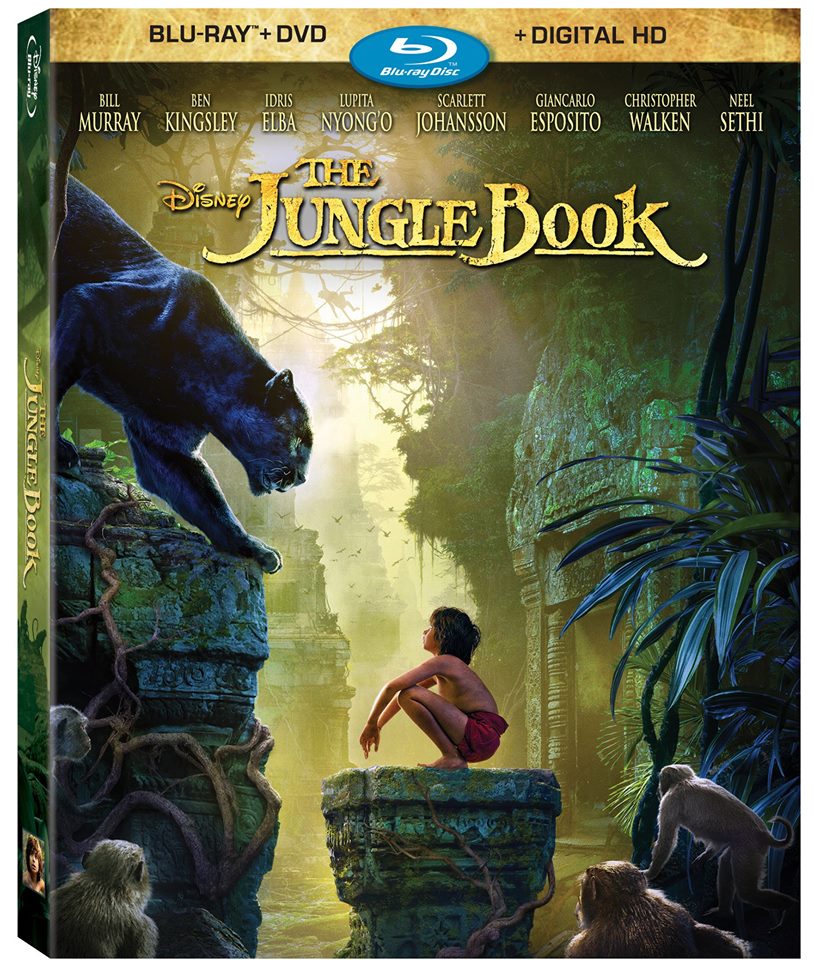 Disclosure: I received an all expenses paid trip to LA.  While there I interview talent from behind the scenes of The Jungle Book.  No one told me what to say or how to think.  These are all my words and 100% my own thoughts!
Interview with Brigham Taylor and Rob Legato
While in LA earlier this month for the Pete's Dragon premiere, myself along with 24 other bloggers, sat down to talk with producer Brigham Taylor and Visual Effects Supervisor Rob Legato about The Jungle Book and the Bonus features on the Blu-ray, which is being released August 30th, 2016.  If you don't want to wait that long, you can get it on Digital Demand today, August 23, 2016.
I felt so much closer to this film after we talked with them. The thought that goes into making a movie with computer animated animals is just amazing.  Not to mention the time they put into a movie that is over in less than 2 hours!
"There's a period of time where you're just working on story before you're really engaging and for any movie that can take any amount of time. This movie is probably about six months to eight months, something like that, just for story deveopment.  From the time you're really starting to prep the film to about the time we first met and started talking, you're talking about a year of sort of pre-production and another year to finish it.  " – Brigham Taylor on the time it took to make The Jungle Book.

"It was about 2-1/2 years when I originally came on to start talking about it. We had built up and made sort of in house mechanisms to do this movie,  the art department and the virtual art department and all the various things. But, 2-1/2 years I think is a full-on production but I don't know what happened prior to that." – Rob Legato on the time it took to make The Jungle Book
On the size of the Production Team
"There were massive teams and visual effects people. The crew when we were actually shooting on set was modest in that, a couple hundred, but you know, you're talking over 800 people" – Brigham Taylor

"There were probably 1,000, maybe 2,000 people, all in all, if we could count all the musicians and all the musicians in New Orleans and if you count everybody that was actually on the film at one point or another, it's probably close to 2,000 people,  it's a lot of people." Rob Legato
Since it was Neil's first film, working with a green screen was going to be challenging for him to react to what was really supposed to be there.  So they used various kinds of puppeteers.   They explained this process a bit more…
"This was Neil's very first film he has ever been in so how do you elicit a response from somebody and keep it fresh take after take after take? So, that's why I thought it was a brilliant idea that you have somebody that will capture his imagination with small little things, like put little knuckles, eyeballs on a tennis ball, and they did that and they would adlib a couple of things that were not in the movie but his reaction would be of that is in the movie."
On challenges they faced while making The Jungle Book
"One part that was much discussed in this piece was saying goodbye to the mother because of the interactivity and also because of the level of performance.  Again, we had Neil in his first film, having done no acting prior, and it was a heavy emotional scene. It was also one of the most demanding technical scenes.  I feel like we could talk about that scene for a year, both in terms of how we're going to accomplish it".  Brigham Taylor

"There's the peace rock scene where there's so many animals and so many different things and had a look like and felt like the way it feels in the movie, and you're starting with a blank page and what you really want in your shooting specificity, is why am I looking there? What am I seeing what I'm seeing there? What are we going to put there eventually to justify why we were looking over here? There were so many things out of the animator that without having a firm foundation, that's why it's sort of the technology of doing what we're doing so you can at least see something to react to cause I'm a visual person and I needed to have something and it determines other things." Rob Legato
On what they like on Blu-ray Bonus Features
"I like hearing about little inspirations and tidbits that you wouldn't have necessarily understood and this isn't just one piece. It's sprinkled throughout the pieces, like when Jon mentions how we were looking at the piece for Bambi and in terms of the inspiration for the first move and then there are six or seven of those moments. I find it interesting. I find it all engrossing and I worked on it. I like having digested in 30 minutes what took 2-2-1/2 years and looking at it that way, but I love hearing about the sort of behind the scenes creation inspirations in terms of why stuff wound up on the screen the way it did." Brigham Taylor
On what makes it as a Bonus Feature on the Blu-ray
"The trick is you try to capture everything and seasoned filmmakers, like we had on this film, Jon included, brought in a crew very early on just because we felt this was going to be an interesting process and project so we were capturing stuff at every key point throughout so that we would have options and you kind of get it all. We have a great team at Disney that produces this stuff." Brigham Taylor

"The  behind the scenes team at Disney actually were the ones that just really knew.   They were coming up to us, just like an audience member, saying 'I didn't know you did it that way' and they were being enthusiastic about it. There's always a regret when we do this stuff because you wish to document it after it worked but while you're doing it you're under tight pressure to get it done. You don't know if it's going to work or not. You don't want to look like an idiot and so you don't say let's stage this almost for a camera, so people kind of do it." Rob Legato
The bonus features of The Jungle Book give you a great look at making the movie.  I highly suggest you watch it all.  It's pretty cool!  These guys were great, and so down to earth.  We were so happy to have the time we had to sit and chat with them about The Jungle Book!  Can't wait to see what they do next!