Inventor's Clubhouse Building Set from K'NEX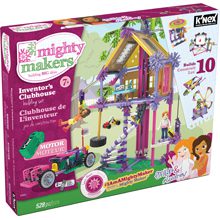 Invent anything you can imagine with Emily and Audrey in the Inventor's Clubhouse Building Set from Mighty Makers. Emily and Audrey meet up in the Inventor's Clubhouse and let their imaginations soar. By building inventions they see in everyday life, these girls are inspired to create their own contraptions. Help Emily create a flapping bird, like those she sees outside of the Clubhouse windows. Or, help Audrey build an animation machine to watch her drawings come to life. Take a ride on the Clubhouse zip line to get those creative juices flowing. The building opportunities are virtually endless with the Inventor's Clubhouse from Mighty Makers. Most models can be built one at a time.
This toy is recommended for builders ages 7 and older and sells for $59.99.  You can find it in stores now!