Jasmere is yet another daily deal site.  But what makes this site different is the more people that buy the deal, the cheaper price!!  I love that part!  So you may think you'll pay one already low price but then the price may end up lower in the end!
Today's deal was one that I had to share.  Not only is it on sale for a GREAT price, but it's one of those things that saves you money over and over again…. It's a Waste-Free Lunch Kit from Kids Konserve and right now you can save 55% off the retail price of $40 when you purchase it for only $19!! And remember this price may get lower. It may already be lower by the time you read this post!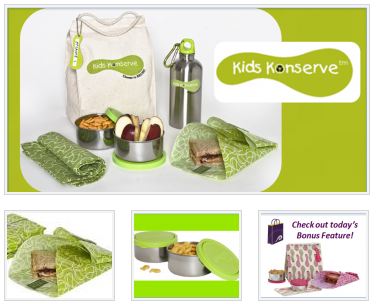 Your reusable lunch kit includes:
Recycled Cotton Sack
Cloth Napkin
Stainless Steel Beverage Bottle
Food Kozy- a reusable sandwich wrapper.
5 oz. Stainless Steel Food Containers (x2)
Every piece is eco-friendly and safe for food storage. BPA, lead and pthalate free! Think ahead for Christmas. Living at the North Pole, Santa cares about global warming, too.