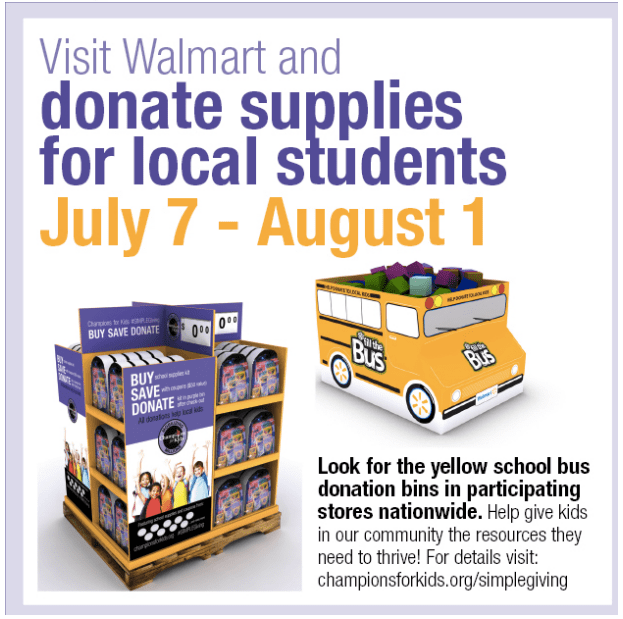 Join the Champions for Kids Twitter Party today (7/10) to Help Kids Get School Supplies They Need With the #SIMPLEGiving Program!  This is a great cause because schools don't have the money to purchase all these items for kids so they leave it up to the parents.   And lets face it, some people barely have enough to get by and then when you add school supplies to the list,  it just isn't always in the budget.  It's a sad reality and we can help.
More than 16 million American children live in poverty. For many, buying the items they need to succeed in the classroom can be a challenge.
You can RSVP to the twitter party here!  I'll be popping in so stop by and say hi!
TWITTER PARTY DETAILS
Children with quality school supplies are better equipped to succeed academically and creatively, and that's why we are joining Champions for Kids, along with Elmer's, Purell, Unilever and Walmart, for this Twitter party to spread the word about a SIMPLE Giving initiative that can help give kids the resources they need to thrive.
The initiative is taking place in more than 3,000 Walmart stores across the U.S., collecting school supplies for children in need! Anyone can participate in the campaign simply by purchasing and donating a backpack full of school supplies at your local Walmart store from July 7 through August 1. (See image above of backpack!)  In addition to the school supplies, each backpack contains a coupon booklet valued at over $50! Simply remove the coupon booklet from the backpack to use yourself and place the backpack full of supplies in the school bus donation bin – the money you'll save by using the coupon booklet will pay for the backpack you donated, and your donation will help a local child.
Attend the party to learn more ways to give back locally.  Learn more by joining us for the #SIMPLEGiving party!
WHEN: Thursday, Jul 10 @ 1pm – 2pm (EST)
WHERE:  Twitter Chat
PRIZES: Five prizes will be given to randomly selected participants who answer the trivia questions correctly. Each prize is a $50 Walmart gift card. Prizes are limited to U.S. participants age 18 and older only.
Be sure to follow @theMotherhood, @theMotherhood25, @CooperMunroe, @Emily McKhann and use the #SimpleGiving hashtag to join i!