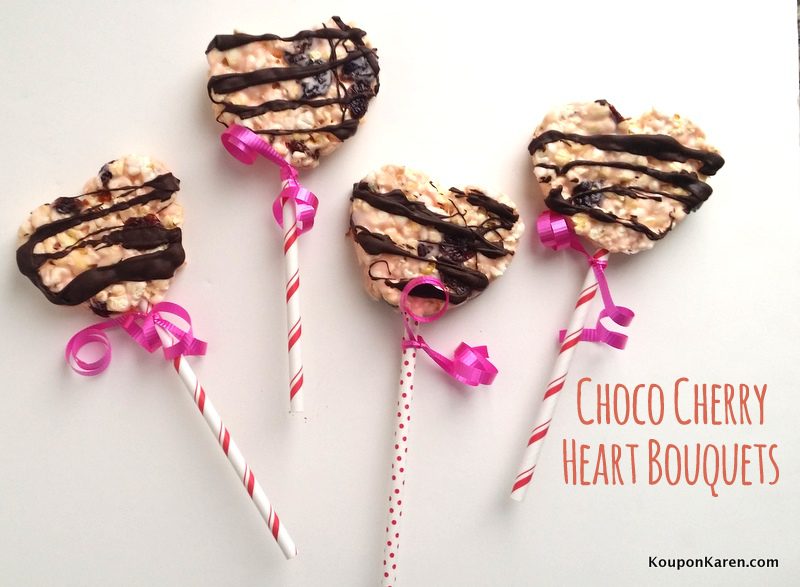 This post is Sponsored by Jolly Time but my opinions are 100% my own!
It's almost Valentine's week and with kids in the house, we have to celebrate it.  Not that I mind because they get all excited over it.  And I like that.   Pinterest is full of fun crafts and treats for Valentine's Day and if you aren't sick of them yet, I have more for you this week!
You may not be thinking of using Jolly Time Pop Corn to make Valentine Treats, but these are easy to make, fun to eat and look pretty too!  Plus they aren't full of chocolate so I don't feel as bad giving them to the kids.  They might even been a fun treat for in school if your school allows you to send in treats.   They can even be allergy-friendly if needed.
What am I talking about?  Why not make these Jolly Time Popcorn Choco Cherry Heart Bouquets for the kids and yourself too.  The wonderful people at Jolly Time sent us a fun kit to make these yummy treats and we had so much fun making them during a snow day last week.  And then we had even more fun sharing them with friends and then eating the rest.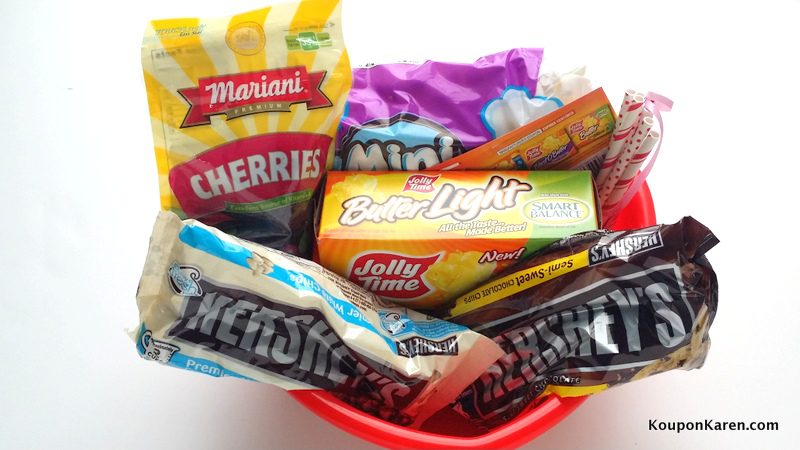 These took very little time to make and the kids can help too!
You'll need to pop about 2 bags of popcorn to get 12 cups.   It really depends on how many don't pop.  I then mixed in the cherries which really just stayed at the bottom of the bowl because they were so much heavier than the popcorn so you can't see them.
I had a hard time keeping the kids hands out of the bowl so we may have ended up with less than 12 cups of popcorn!
Then I melted the marshmallows, butter and white chocolate chips in a pan over medium heat.  I used my Good Cook pan which I love especially for melting marshmallows because it cleans so well!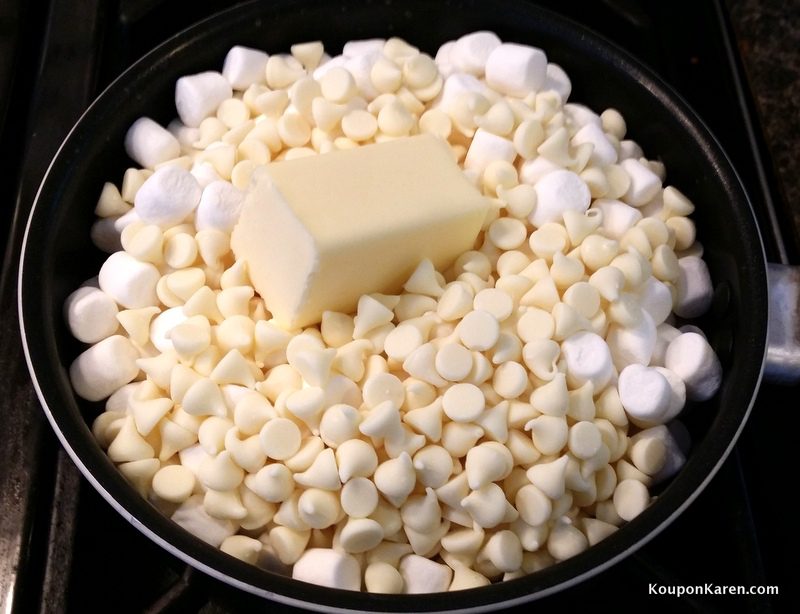 Then once that was melted I added it to the popcorn.  It was pretty messy and I ended up having to use my hands once it was cool.  Then I pressed the popcorn mixture into our heart cookie cutter.  I repeated this step 12 times but I don't have any pictures of it because my hands were too sticky to take a picture.   My oldest tried to take one but it didn't come out clear at all.  So you'll have to imagine that part.
Once you are done making all your hearts, melt the chocolate in the microwave according to your microwave instructions and then drizzle over the hearts and let harden.  It doesn't take long for them to harden.  And yes, these are delicious with all the added yumminess!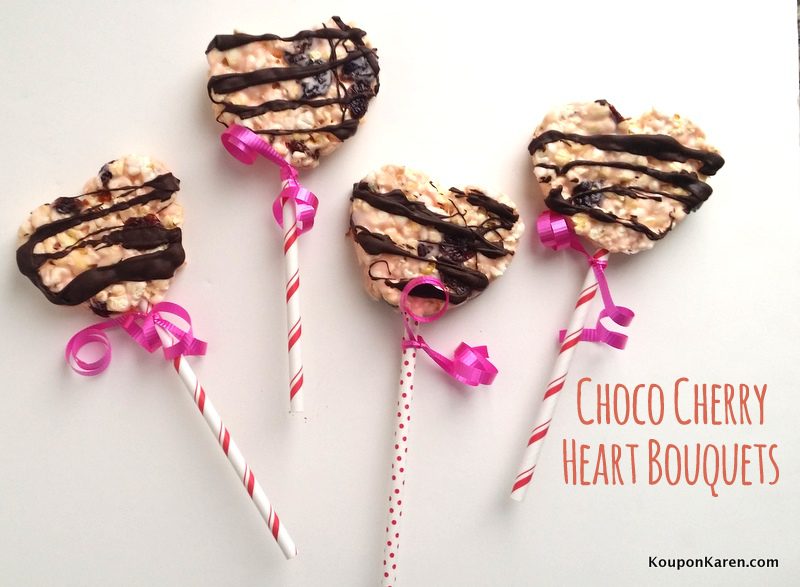 Then you can either leave them as is and package them up or add a stick in the bottom for easier eating.  Either way they are ready to eat almost instantly and yes we tried them right away.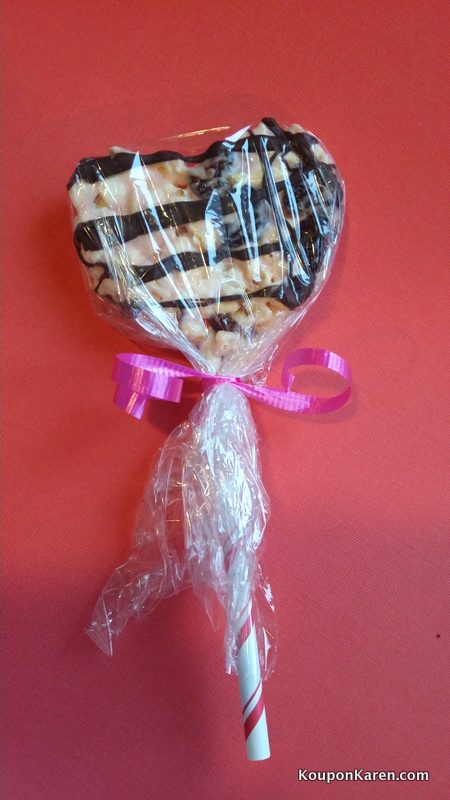 Cute right?
Here is the recipe from Jolly Time that you can print out and add to your file!
[print_this]
Choco-Cherry Heart Bouquets
Makes about 8
Ingredients:
12 cups popped JOLLY TIME® Smart Balance Butter Light Microwave Pop Corn
1-1/2 cups dried tart cherries
1 (1-pound) bag mini marshmallows
1 cup white chocolate chips or chopped vanilla candy coating
¼ cup butter
Red food color
Long lollipop sticks or thick bamboo skewers
1 cup semi-sweet chocolate chips or dark chocolate morsels
Instructions:
Mix popcorn and cherries in a large bowl. Place marshmallows, white chocolate, and butter in a large saucepan. Cook over low heat until melted and smooth. Stir in a few drops of red food color to tint the mixture pink.
Pour marshmallow mixture over popcorn; toss gently until well coated. With wet or buttered hands, press mixture into a 3-1/2 to 4-inch heart-shaped cookie cutter (place cutter on a foil-lined baking sheet; press in popcorn, then lift cutter off). Insert a lollipop stick in the base of each heart.
Allow popcorn hearts to cool completely. Meanwhile, melt the dark chocolate. Drizzle over hearts. Allow to harden.
Wrap hearts in cellophane and tie with ribbon; stand them up in a vase or jar as a centerpiece or gift.
[/print_this]
Disclosure: I received a Free product for review. My opinions are 100% mine.