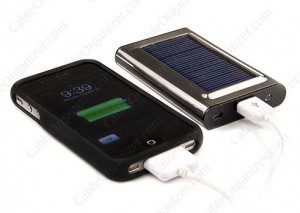 Product Name: Juicebar Multi-Device Pocket Solar Charger
Product Information: Charges Any Modern Small Device Using the Power of the Sun. Juicebar Pocket Solar Charger, What's special about this solar powered pocket charger? Charges your mobile devices via the Sun's rays or indoor lighting, eliminating downtime caused by dead batteries. Contains a standard USB port that allows you to use your own charging cable, unlike other solar chargers that require you to purchase an arsenal of expensive adapters. A great tool for keeping communication open in event of a post-disaster outage or other power failure. Ideal for traveling with cell phones, handheld game systems, and MP3 players.
Product Price: $48.29
Purchase Information: online at Cable Organizer
My Thoughts:  I was excited to receive the Juicebar for review because whenever I travel I can always us some extra help with keeping my phone charged.  And the fact that it's solar power helps a little bit because if I'm outside, which happens sometimes when I travel, I can keep it charging.
So a few days before I left I put it in the dashboard of my car to charge.  My husband told me that it wouldn't charge through the windshield but to his surprise, it did!  So I took it on my trip to Seattle.
I'm happy to report it did work, but it wouldn't fully charge my phone once it went dead.  But it did help to give it some more life.  I imagine if I had it outside it would of fully charged it with the sun helping it, but none the less it worked well and I'm happy to now have it in my possession and use this summer.  Especially when we are outdoors all day long!  It'll be like a never ending charger!
Disclosure: I received a free sample for review. My opinions are 100% mine.