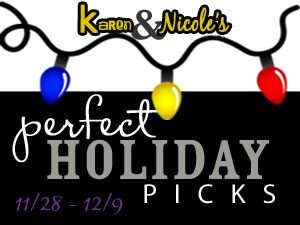 This year I've done something different for the Holidays and I really hope you enjoy it! I've teamed up with Nicole from Nicole's Nickels to bring you Karen and Nicole's Perfect Holiday Picks Gift Guide! We've tested a bunch of products that make great holiday gifts and love them all. And now we want to share them with you! Each day for the next 6 days we'll feature a new gift recipient. Today's recipient is Boy's!
Here is the BEST part! Each day you'll be able to enter to win ALL of the items listed in the post! There will be one (1) giveaway winner for each day and all giveaways will stay open until December 9, 2011! There are instructions on how to enter at the bottom of each post! Good luck!
---
Product Name: Kidlandia Personalized Products
Purchase Information: online from Kidlandia
Product Price: from $9 for wall cling to $59.99 for blanket
Warm up with one of Kidlandia's fleece blankets, decorate a room with Kidlandia's wall art and décor stretched canvases, maps and family trees or have hours of fun with Kidlandia's puzzles and plush toys that connect to an online digital playground. Each gift allows you to personalize it for a child, a grandchild with room to include the whole family. Kidlandia® allows kids and families to imagine, create and rule their own kingdom of fun and adventure and then own it.
---
A toy truck, toy train and toy crane in one fun construction set! Your little ones will enjoy hours of imaginative play with this fun construction set. Put the train on the rails! Move dirt with the toy dump truck! The building fun is endless. Large enough for multiple kids to play together.
---
These toothbrushes tout more than 140 boy and girl-centric stickers which can be used to customize the toothbrush's handle. For boys, stickers feature sports, out-of-this-world robots, and awesome vehicles. Girls' stickers include fun phrases, loveable animals and princess accessories. In addition, each toothbrush includes a set of letter stickers so that kids can put their name onto the handle as a warning to siblings to keep their hands off.
---
Playful personalization of the brushing experience is extended beyond the brush to include toothpaste, as well. The pump provides a blank canvas to be decorated with some of the 120-plus water-safe stickers included in the package. Appealing to both boys and girls, Orajel Kids My Way! Toothpaste comes with stickers all kids will love like animals, sports, rocker, and princess-themed designs. Each pump also includes letters so kids can "sign" their name to their creation. With its fruit burst flavor that kids love, and an anti-cavity fluoride toothpaste gel sure to please parents, it's guaranteed to be a hit with the family.
---
One of a kind body pillow that curves to fit your body snugly giving you the feeling that someone is laying beside you. Perfect for adults who use body pillows and for kids; especially to break the co sleeping habit.
---
Which Trashies are in your collection? Use the Collector Guide inside to help grow your Trash Pack gang. Each Trashie comes with its own can. You can also hunt in the 5pack for the Ultra Rare and Limited Edition Trashies.
---
FIRE STATION PRIME isn't just a fire station – it's a robot in disguise! Change your FIRE STATION PRIME to the OPTIMUS PRIME robot figure when the adventure needs a robot hero to take charge! Press the button for lights and sounds, including 12 different phrases like "Let's roll out and save the day!" Let your CODY BURNS figure take the hero elevator to the top of the fire training tower and then slide down the fire pole.
---
Junque Trunk (jahnk trahnk) n. 1. Storage solution for any and all material things. 2. Often found where humans accumulate stuff. 3. Keeps college kids organized.
---
Product Name: Side Step Snoopy
Purchase Information: chain drug stores, home improvement retailers and mid-tier department stores nationwide.
Product Price: $19.99
"Side Step Snoopy"—the battery-operated interactive plush from Gemmy—dances to the Linus and Lucy theme song at the touch of a button.
---
Product Name: Snoopy Comic Book, Peanuts #0
Purchase Information: available for purchase via Comixology's IOS app and through a PEANUTS branded app, both available at www.itunes.com.
Product Price: $1
In January, KaBOOM! launches a brand-new PEANUTS comicbook series—and will be offering a sneak peek this November with the special "Peanuts #0" comic book featuring a new original story and supplementary material.
---
Publications International's "Look and Find" ($7.95) version of A Charlie Brown Christmas offer children ages 4 and up an interactive experience of the classic holiday story.
---
Land on Comfort with the Crash Landing Memory Foam Comfy Chair by Sleep Innovations! Unlike traditional bean bag chairs, this unique Memory Foam Comfy Chair is generously filled with gel memory foam microcushions that provide the ultimate in cloud-like comfort and maximum support. The gel memory foam microcushions gently mold to your body's natural shape to promote correct and comfortable body alignment, while the high backed seat design provides enhanced neck and back support when sitting. This exclusive design makes this the perfect comfy chair for studying, reading, gaming, or just hanging out! And because it was developed with premium memory foam it won't break down or go flat and will always keep its shape. Includes premium camel color micro-suede cover.
WIN IT
(1) One lucky reader will win ALL of the items listed in this post with an approximate value of over $350!!
Enter using the Rafflecopter form below – you can only do each entry once! Giveaway ends at 12:01 am on Friday, December 9, 2011. For information on how to enter Rafflecopter Giveaways check out this post.

Disclosure> I received samples of the items in this post, however, my opinions remain my own.