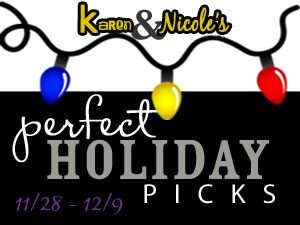 Today is the 2nd day of Karen and Nicole's Perfect Holiday Picks Gift Guide!   I've teamed up with Nicole from Nicole's Nickels and we've tested a bunch of products that make great holiday gifts and love them all.  And now we want to share them with you!  Remember each weekday from now until 12/5 we'll feature a new gift recipient. Today's recipient is Girl's!   If you missed the first day you can see them HERE.
These gifts are great for the little/young girl in your life and would make perfect holiday gifts!
Here is the BEST part! Each day you'll be able to enter to win ALL of the items listed in the post!  There will be one (1) giveaway winner for each day and all giveaways will stay open until December 9, 2011! There are instructions on how to enter at the bottom of each post! Good luck!
---
A fun and fashionable girl like your BLYTHE figure has lots of places to go — so this cute scooter vehicle is the perfect choice! Put her adorable Corgi dog on the scooter with her and send your Blythe figure zipping and zooming off to her next destination. Will she and her pet stop by a "boutique" or a little "shopping"? Or maybe a "café" for a "snack"? The possibilities are practically endless with a speedy scooter vehicle like this!
---
Take a trip to the BERRY BITTY MARKET for a sweet treat or something good to eat! Strawberry Shortcake will be happy to help you find exactly what you need. There's so much to do at the Berry Bitty Market, and your Strawberry Shortcake doll is ready to go! The two of you will have so much fun shopping for "treats" that you won't want to leave.
---
Although you may live hundreds of miles away, you can still be "together" for the holidays with your loved ones. This year, Hallmark's Holiday Recordable Storybooks not only record a reader's voice directly into the book; they now feature music! People can read or sing one of six holiday classics — including three new titles —and participate in holiday story time with loved ones, even if distance causes them to be apart. Hallmark also offers more than 15 any day titles, such as Goodnight Moon, Counting Kisses and All the Ways I Love You, allowing your gift to keep giving any day of the year.
---
Product Name: French Toast Forgets His Lunch Board Game
Purchase Information: Barnes and Noble and www.FatBrainToys.com
Product Price: $19.99
This adorable no-reading-required preschool game teaches young children about sharing and friendship, all while having tons of fun. Our friend French Toast forgot his lunch – oh no! Travel around the game board to collect food pieces and be the first to deliver a full lunch box to French Toast. What a good friend you are! French Toast Storybook is included with the game. For ages 3+
---
Product Name: DICEcapades Kerfuffle! Board Game
Purchase Information: Barnes and Noble and www.FatBrainToys.com
Product Price: $24.99
Roll your dice and try to create a pair, three of a kind, four of a kind, etc., or a straight by lining up your dice with the dice already on the game grid. But, here's the catch… You need to do this while doing what the drawn card says! You might get lucky and only have to start your turn with a three of a kind. Or, you might have to "whistle while you work!" The first player to get rid of all their dice wins in this LAUGH OUT LOUD strategy game for the whole family! For ages 8+
---
Light things up with the new Spinbrush Globrush battery-powered toothbrush available in three different fun handle designs. Micro-pulsing bristles attack plaque, while a two-minute color-change timer leads the way. When it changes colors, you switch sides.
---
Product Name: Blue Crystal Stud Earring
Purchase Information: Online at MimisTheLook.com
Product Price: $8.00
These earrings are a gorgeous pool blue. The studs are perfect for absolutely any age and will add a pop of color and sparkle to your face! These are great for any age on your Christmas list! Children to adults will love these. They are available in eight colors!
---
Product Name: Lalaloopsy Crumbs Sugar Cookie
Purchase Information: Toys R Us, Walmart, Target and more.
Product Price:$49.00
The Lalaloopsy were once rag dolls who magically came to life, taking on the personalities of the fabrics that were used to make them. These Lalaloopsy have silly hair that bends every which way! Now you can style your Lalaloopsy doll's hair and her pet's tail too. It includes fun hair styling brush, 4 clips and 6 hair beads and the pet has a matching bendable tail.
---
Product Name: The Original Christmas Classics box set
Purchase Information: Available wherever Blu-rays are sold
Product Price:$44.99
The cute and family-friendly box set contains four of the most beloved holiday TV specials of all time, including the Rankin/Bass classics "Frosty the Snowman," "Rudolph the Red-Nosed Reindeer," "Santa Claus is Comin' to Town" and "Frosty Returns." Watching these iconic TV specials are part of the American holiday tradition, just like baking cookies or trimming the Christmas tree! The holiday season just wouldn't be the same without them.
---
Product Name: Animal Jam
Purchase Information: The Animal Jam Gift card is available in Toys R Us stores and in major grocery stores nationwide.
Product Price: The Animal Jam gift card costs $15.99 and includes a 3-month subscription to Animal Jam and a 6-month subscription to National Geographic Kids magazine.
The award-winning National Geographic Animal Jam game has a new gift card out just in time for the holidays. Animal Jam is a virtual world that more than 2 million kids between the ages of 5 and 11 love to play online. The gift card is a great deal because the value of these items sold separately is $42.80. Visit www.animaljam.com to learn more about the game.
---
Product Name: A Charlie Brown Christmas Play-a-Song Book
Purchase Information: You can purchase it where books are sold.
Product Price: $11.98
A Charlie Brown Christmas is a Play-a-Song storybook that enables children to sing along to familiar children's melodies with favorite Peanuts characters. Designed for kids ages 18 months and older, the interactive book has an attached five-button sound module. Children match the pictures on the buttons to corresponding icons on the book s pages. Each button plays two Christmas themed melodies.
Product Name: Kid's Snoopy T-Shirt
Purchase Information: at retailers nationwide
Product Price: $7-$65
It's a wearable Charlie Brown Christmas with these clever and adorable tees for men, women and children from Freeze, Hybrid Junk Food, Logotel, and Mighty Fine; available in prices ranging from $7.00 – $65.00 at retailers nationwide. Adorn a little one with a long-sleeve tee featuring the PEANUTS gang gathered around Snoopy's decorated doghouse.
WIN IT
(1) One lucky reader will win ALL of the items listed in this post with an approximate value of $300!!
Enter using the Rafflecopter form below – you can only do each entry once! Giveaway ends at 12:01 am on Friday, December 9, 2011. For information on how to enter Rafflecopter Giveaways check out this post.