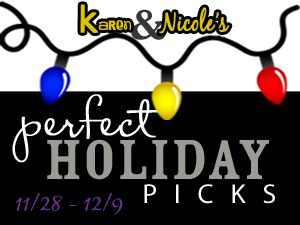 Today is day #3 of Karen and Nicole's Perfect Holiday Picks Gift Guide and Giveaways!!! I hope you've been enjoying the fun items and the giveaways. We've tested all the products and approve them! They would make perfect holiday gifts for those on your list, or perhaps yourself! If you missed the first couple of days you can see them HERE.
If this is the first you are hearing of this, this year I've done something different for the Holidays and I really hope you enjoy it! I've teamed up with Nicole from Nicole's Nickels to bring you Karen and Nicole's Perfect Holiday Picks Gift Guide! We've tested a bunch of products that make great holiday gifts and love them all. And now we want to share them with you! Each day for the next 6 days we'll feature a new gift recipient. Today's recipient is Men!
Each day you'll be able to enter to win ALL of the items listed in the post! There will be one (1) giveaway winner for each day and all giveaways will stay open until December 9, 2011! There are instructions on how to enter at the bottom of each post! Good luck!
---
Product Name: Home for the Holidays
Purchase Information: You can purchase it at HickoryFarms.com
Product Price: $55.00
Enjoy the favorite gift sent to loved ones serving overseas, featuring the award winning flavor of Our Signature Beef Summer Sausage and Italian Recipe Summer Sausages.
The combination pairs perfectly with our deliciously creamy cheeses, Sweet Hot and Honey Pineapple Mustards and savory crackers. This product is eligible for Free shipping to APO/FPO military addresses.
---
Product Name: Bottle Cap Catcher
Purchase Information: Online at ShopTrudeau.com
Product Price:$9.99
The perfect gift for any beer lover or as a handy home bar accessory, this clever and unique bottle opener doubles as a cap catcher. Stainless steel opener easily flips off caps of soda or beer bottles and drops them into the container below (holds up to 30 caps at a time). Bottle tip works to open cans as well, making it perfect for big events, like the Super Bowl.
---
For beer lovers, any hour is happy hour. And with our personalized pub glasses, your home bar is a welcome place to be. The four-glass set features custom graphics and additional personalization for a home bar you'll love to entertain in night after night. Exclusively from RedEnvelope.
---
Product Name: NeatReceipts
Purchase Information: NeatReceipts can be found online at Neat.com, Amazon.com, Apple.com, BestBuy.com, and at the following locations: Best Buy, OfficeMax, Office Depot, and Staples.
Product Price:$199.95
NeatReceipts is a portable scanner and digital filing system that helps you manage all of your paperwork on the computer. NeatReceipts includes NeatWorks scanner software that identifies and extracts the important information from receipts, business cards and documents and automatically organizes it for you. All scanned documents can be searched by keyword so you can find exactly what you need. NeatWorks software gives you an easy-to-use, intuitive application to manage all of your business and personal paperwork.
---
This Giant sized fortune cookie is almost the size of a football and is hand-dipped in rich golden caramel and then smothered with Heath® English Toffee bits which contain a 1 ft-long fortune with your personalized message inside. Smooth Belgian chocolate (your choice of white, dark or milk) finishes this amazing fortune cookie that measure 19.5″" in circumference. Each cookie is approximately 6.5″" x 6.5″" x 6″" inches and is hand-packed in a lovely 7″x 7″ x 7″ glossy white gift box. Giant fortune cookies weigh anywhere between 10oz to over 1 lb depending on how they are dipped and decorated. It will create the ultimate custom gift that is equally gorgeous and delicious!
---
Featuring 360° Pivot & Flex technology, this precision rotary shaver has three floating heads and a freely pivoting 360° neck for a close, more comfortable shave. Plus, it's completely washable for quick and easy daily cleaning. This cord/cordless rechargeable men's rotary shaver makes a perfect gift for Father's Day, birthdays and Holidays!
---
For the person-on-the-go! Make sure to take My Airport Butler with you on every flight, so it can be your extra set of hands in a crowded boarding area (for your food, coffee, magazines, newspaper or cell phone). My Airport Butler is designed to work with all roll on luggage. It easily slides under the handle of your luggage and instantly turns into a table top. It folds up to store inside your luggage when you are finished.
---
Product Name:Safe Skies Locks: The TSA Locks
Purchase Information: Online at Safe Skies Locks
Product Price:$8.95 – $20.95 depending on style and packaging
Padlocks, combination locks, cable locks and luggage straps allows you to lock your luggage safely without getting cut. Provides travelers peace of mind while protecting belongings. Proprietary torch symbol allows baggage screeners to easily identify it, open it, inspect and re-lock your luggage. The only luggage lock company protected by two US patents. They are accepted and recognized by both TSA and Her Majesty's Revenue and Customs of the United Kingdom. And they have the largest selection available in unique colors, designs and patterns to meet every need and demand.
---
Product Name: HP Faux Canvas
Purchase Information: Available at Walmart and Walmart.com
Product Price:Starting at $20, available exclusively at Walmart this holiday season.
HP Faux Canvas is an affordable canvas-like wall décor that enables you to turn personal photos into decorative art. It comes in multiple sizes, giving you the flexibility to design creative and personalized wall décor to fit any room. Better yet for those holiday procrastinators, HP Faux Canvas makes a great last minute gift because they can be ordered and picked up in-store the same day!
---
Product Name:Snapfish.com personalized calendars
Purchase Information: Snapfish.com
Product Price:Starting at $9.99
Give a gift that can be enjoyed 365 days a year. Snapfish's desktop or many wall calendar options make great holiday gifts, and can be customized with one of Snapfish's unique themes to complement your photos. From the collage poster calendar featuring up to 30 photos, to the various wall calendars (classic, glossy or square), these calendars make a chic home or office accessory.
---
Product Name: Brut 5.5 oz. Cologne and 7 oz. Splash Gift Set
Purchase Information: Available at Kmart, Walgreens and drug stores nationwide
Product Price:BRUT gift sets range from $7.99-9.99
BRUT is the ultimate gift for men who completely embody the essence of man. This holiday season, BRUT offers two varieties of the holiday set, featuring a 5.5 oz. Cologne and Deodorant or a 5.5 oz. Cologne and 7 oz. Splash on that come complete in a gift box for minimal wrapping. The scent is both rustic and edgy – men love it, and women love their men wearing it.
---
Product Name:Christmas Gourmet Gift Basket
Purchase Information: Online at CommunityCoffee.com
Product Price:$39.99
Indulge in everyone's favorite coffee blends with Community's most popular gift set which includes Private Reserve® Holiday Jazz® (12-oz.), House Blend (12-oz.), Breakfast Blend Supreme (3.25-oz.), French Roast (3.25-oz.), Louisiana Blend® (3.25-oz.), and 100% Colombia (3.25-oz.) coffees. Also included is a vintage diner mug (9-oz.), a stainless steel travel tumbler (16-oz.), two almond biscotti, and a red Community branded coffee scoop. This is all beautifully wrapped in a festive red and gold basket.
---
Product Name: Baskin-Robbins Cake Bites
Purchase Information: PURCHASE INFO
Product Price:Cake Bites cost $2.99 individually or are $9.99 for a mix-n-match 4-pack
Cake Bites are individual ice cream and cake treats frosted with indulgent ganache, finished with simple chocolate decoration.
They measure 3" L x 1 5/8" W x 1 ½" H and come in 4 indulgent flavors:
Double Chocolate: Chocolate ice cream over chocolate cake, enrobed with chocolate ganache coating, finished with chocolate accent.
Praline Caramel: Pralines 'n Cream ice cream over white cake, enrobed with white chocolate ganache coating, finished with caramel drizzle & chopped pralines.
Chocolate Mint: Mint Chocolate Chip ice cream over chocolate cake, enrobed with chocolate ganache coating, finished with white chocolate drizzle.
Vanilla Blondie: Vanilla ice cream over white cake, enrobed with white chocolate ganache coating, finished with chocolate accent.
---
Product Name: Precision Set: 5″ Utility Knife and 3.5″ Paring
Purchase Information: Online at ZXKitchen.com
Product Price:$51.00
Preparing Christmas dinner should not tire you out before you can enjoy the meal. With balanced weight and comfort grip handles, zx kitchen™ knives fit comfortably in your hand and protect your knuckles while slicing. They are germ-resistant and non-stick so they easily wipe clean, helping you to avoid cuts and scrapes that occur when trying to clean regular knives. For further safety, zx kitchen™ offers attractive red sheaths to protect your beautiful knives when they are stored.
Sleek and smooth, zx kitchen™ knives boast stylish black blades made from zirconium oxide, the hardest material on earth second only to diamond. Sharper than traditional steel cutlery, ceramic knives from zx kitchen™ deliver flawlessly for at least five years with no need for sharpening. They do not rust or deposit chemicals as you use them, preventing metallic taste or discoloration in food. And unlike white ceramic tools, zx kitchen's™ black ceramic will never stain.
---
Convenient set includes all of the most commonly used bits and sockets plus a ratcheting screwdriver that indexes up to 180 degrees. The 45-piece set provides a generous collection of compatible tools for use on the job or at home. It includes a ratcheting screwdriver that is able to index up to 180 degrees and locks into 9 different positions to help make the job easier. The Ratcheting Screwdriver and Ratchet features a rubber grip handle for comfortable and non-slip grip. The set includes 1/4 in. and 3/8 in. Ratchet, Stubby Wrench, and Ratcheting Screwdriver, plus 12 SAE sockets and 13 Metric sockets. Additional pieces include 1/4 x 3/8 adaptor, 15 screwdriver bits and a screwdriver adapter. The screwdriver's ratcheting feature and stubby size help get into tight spots. It's a useful set for household repairs and auto work and comes in a compact and handy carry case for easy portability and storage. It's backed by Husky's Forever Guarantee.
WIN IT
(1) One lucky reader will win ALL of the items listed in this post with an approximate value of over $600!!
Enter using the Rafflecopter form below – you can only do each entry once! Giveaway ends at 12:01 am on Friday, December 9, 2011. For information on how to enter Rafflecopter Giveaways check out this post.
Disclosure> I received samples of the items in this post, however, my opinions remain my own.