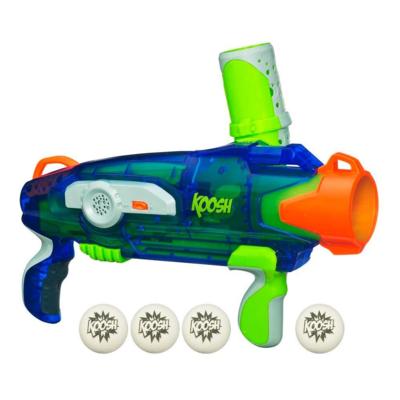 Product Name: Koosh Galaxy Solar Recon Ball Launcher

Product Information:  Guard the galaxy with glow-in-the-dark blasting power and awesome sounds and lights! Feed the KOOSH balls through the top of the ball launcher and watch as the LED lights brighten and charge the glowing KOOSH balls for awesome glow-in-the-dark blasting effects! Kids can hear the ball launcher powering up, firing, and going back into standby mode so they can be ready for their next adventure. Blast off with KOOSH ball launchers!
Blaster comes with 4 glow-in-the-dark foam balls and instructions.
Koosh Galaxy Solar Recon Ball Launcher Product Features
Sized for Little Hands!
Glow-in-the-Dark Blasting!
Lights and Sounds!
Easy Slide-and-Fire Action!
Includes 4 Glow-in-the-Dark Foam Balls!
Product Price: $26.99
My Thoughts:  This is so much fun.  The girls love toys like this and while I'm not big on 'gun' type toys, this is just plain fun!!!  We only allow them to use this in the basement because there are way to many breakables in the house and while they balls are only foam, they can still knock stuff over if hit right.  My husband had a really great time playing with this with the girls and we will probably pick up a second one so they each have one (and perhaps one for my husband too, shhh don't tell!).
I can see why this is going to be a popular toy for the holiday season.
Disclosure: I received a Free product for review. My opinions are 100% mine.