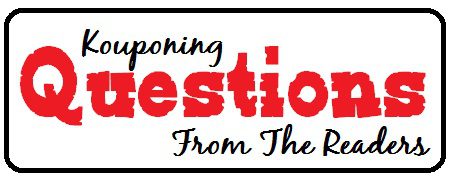 Each week I will be addressing some questions that I get from my readers in the hopes of helping a lot of you with your couponing and money saving struggles.   I'm always here to answer questions and I'll help in any way that I can!
How can I find coupons without looking through a bunch of different sites??
Finding the coupons you  need can take a lot of time.  The first thing I would suggest is to find a blog that covers the stores you shop at.   Then they will tell you the hot deals each week along with where to find the coupons you need to score the deals.    I don't cover every store in the Unite States but I do share some highlights at some of the more popular ones along with a link back to the site that has a bigger list.
If that doesn't work for you or it's not enough, try the Koupon Karen coupon database.  This database is updated on a regular basis to hopefully have all the new coupons listed.  I say hopefully because we only know of coupons that we find or others find.  So if you know of a coupon that is not there, be sure to submit it.
To find coupons in the coupon database, you just need to put the item you are looking for into the search box and any available coupons that have been added to the database, will show below and also where you can find them.  You can read more detailed instructions on using the Koupon Karen Coupon Database HERE.
And of course, if you keep your clipped coupons filed away each week, they will be much easier to find!
Have a question about using coupons or saving money? Email Me and your question may be answered right here on the blog. Check here for all questions answered in this series.