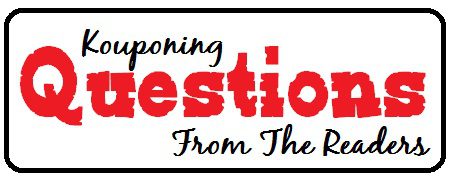 I asked my readers on Facebook to submit their coupon questions and I will answer them one by one.  This will help those of you struggling and hopefully help those of you just starting out.  I'm always here to answer questions and I'll help in any way that I can!
How can I shop at one store rather than driving all over to get the deals?

If you are looking to shop at one store rather than all over town, then you want to Price Match!!   What is price matching?  It's when the store will sell an item for the same price that another store is selling it for.  Check with your local stores and see if they price match and what they will match and what they require to match.  Usually the stores need to be within a certain distance from each other and they will match item for item, size for size and scent/flavor for scent/flavor.  You may also want to take the sales ad from the store you want to price match from, with you to the store you want to make your purchase, so they know what the item is.   Don't just assume that they have the ads there just because they will price match.
Walmart is one store that will price match which can be helpful if you are shopping for more than just groceries and you can avoid going to two stores.  And you can use coupons when you price match to save even more!
Have a question about using coupons or saving money? Email Me and your question may be answered right here on the blog. Check here for all questions answered in this series.