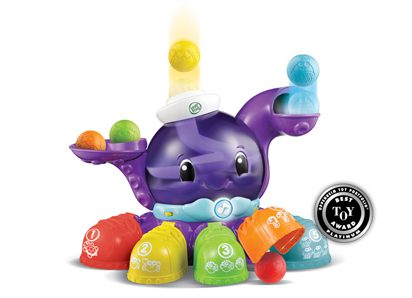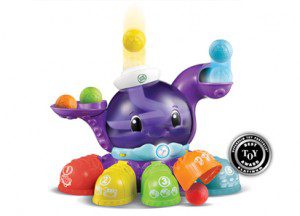 Product Name: Peek-a-Shoe" Talking Octopus
Product Information:With the Peek-a-Shoe Talking Octopus from LeapFrog, your child can practice counting, listen to fun songs, and develop both hand-eye coordination and motor skills. This interactive toy is designed for toddlers and preschoolers ages 9 to 36 months, and includes five different color "shoes" and balls. It has three modes of play for lots of learning fun!
A winner of the 2011 Oppenheim Toy Portfolio Platinum Toy Award, the Peek-a-Shoe Talking Octopus helps toddlers and younger preschoolers learn and understand more about the world. Children build number recognition skills as they lift each shoe and hear its number spoken aloud. Fun learning songs help kids explore number order and counting, while the five brightly colored shoes expose them to color naming and recognition as they lift the shoes to play peek-a-boo.
Dropping the balls into the Octopus's hat or arm and lifting the shoes to find them helps children build hand-eye coordination and both gross and fine motor skills.
Parents can connect to the online LeapFrog® Learning Path for customized learning insights and ideas to expand the learning. Appropriate for children ages 9 to 36 months.
My Thoughts: This looks like fun right from the start. It's so colorful and 'happy' looking. Oh how I wish we still have little ones in the house! My friends son just turned two so pulled this out when they were over once. He was excited when he saw it because of the balls. What kids don't like balls, right?
Guess what? He knew exactly where to put the balls. Now I Know it's not rocket science but I thought it was great he knew what to do! We didn't even turn on the music and he had a ball trying to find the balls. It's a great tool for them to learn their colors and their numbers. I believe that by saying over and over again, what number is on each shoe, that he will learn them faster than he may have. And he's having fun at the same time.
The music defiantly makes this toy even more enjoyable for the baby, but if musical toys drive you crazy after a while, this is a good one because you don't need the music to make it work, and to make it fun!
The ONLY downside they found so far was that he tried to put every single ball he owns, big or small, in the octopus. This was a problem when they started to get stuck inside, out of reach. Dad had to use something as a snake to get them out. It wasn't easy because obviously it got stuck because it didn't fit, but he managed to get them out. So you may want to monitor what the kids have access to, when playing with this!
And it's very easy to assemble. You just need to pop on the shoes and put in the batteries, which are not included. The battery door is opened with a screw driver, which is good so the kids can't get to the batteries. As much as a pain that this can be for mom and dad, it's a good saftey precaution.
Product Price: $29.99
Purchase Information: You can purchase this where toys are sold and online at Amazon or Leapfrog.com
Disclosure: I received this item free of charge for review. My opinions are 100% mine.