If debt has started to weigh you down, here are 7 ways to significantly lower your debt this year.  Getting rid of debt takes some pretty large sacrifices.  It does not come easily.  These tips are big leaps toward getting rid of debt this year, so be prepared to make major changes in your lifestyle to make them work.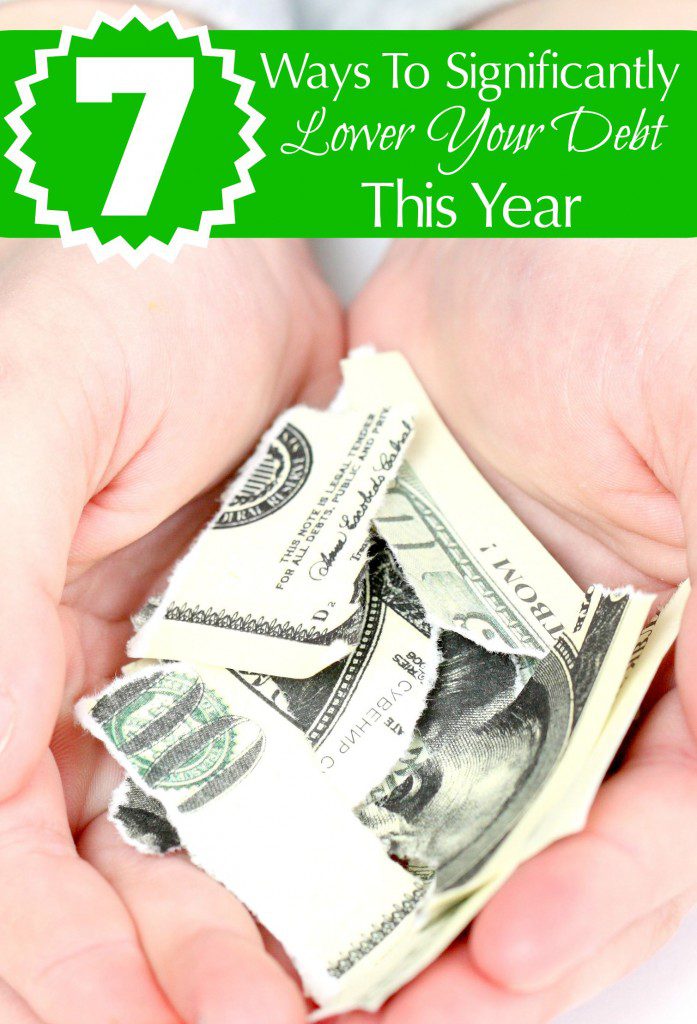 7 Ways To Significantly Lower Your Debt This Year
Sell your car.  One of the biggest ways to lower your debt is to get rid of something expensive.  This one seems impossible for some individuals, but if you are in an area that has great public transit, it can save you thousands of dollars a year to downsize.  Depending on you family needs, downsizing to just one vehicle is a great way to significantly lower your debt this year.  There are many factors to consider, but doing some research on local transit can give you pretty clear answers right away.  If you are a family where one individual works from home while the other is outside the home, selling one vehicle and keeping only one is another great option.  Not only will you no longer have a $300-$500 per month vehicle payment, but you will also save on insurance, maintenance, and gas costs.  This can easily add up to$5000-$6000 per year you can put toward existing debt.
Get rid of credit cards.  This seems obvious, but let's get honest – too many people still cling to a credit card or two.  It can be tough to adjust to paying for things outright if you are stuck in the credit trap, but you can do it.  You don't have to close an account, but you can put the cards away and halt spending until you get credit lines paid down.  This even goes for things like gas cards and store cards.  It's an easy way to lower your debt, by not charging anymore.
Refinance your home.  This is a huge and life-changing choice, but it can be a wonderful way to get out of debt.  If you have found yourself in a position where you are in debt but are in good standing with your bank and mortgage holder, you may have enough equity in your home to refinance at a similar or lower rate, and give yourself funds to pay off a large portion of the debt.
Downsize your home or move.  You can downsize possessions from your home to pay toward existing debt.  This could be furniture, clothing, electronics, and even housewares.  Yard sales and resale groups are a great place to sell good used items easily.  If you are able, you could also sell your home and buy something smaller, or move to a less expensive neighborhood or apartment if you are currently renting.  Sometimes living in an area that isn't as nice or affluent is still just as safe while saving you thousands of dollars in rent each year.
Rent a room in your home.  Having a tenant that pays rent is an amazing way to put money directly toward your attempt to lower your debt.  If you have a basement that is finished, with very little work you can easily make a great apartment to rent to a single individual or even a small family.  Renting a room to a college student is another great way to add some extra income to your budget.
Get a second job or work a second job from home.  This always comes up when it is time to lower your debt, but it is the tried and true method.  When you need to get rid of debt, you really need to find more money to apply toward it.  Sometimes the only option is taking on a second job.  A second job can be something you do one day a week, at home on weekends or even after work for an hour each day.  Think about your talents and skills and put them to work for you.  Babysitting on the weekends,  becoming a personal trainer at your gym, or painting beautiful landscapes to sell at a local gallery are all excellent choices.  A great job for your free time is Door Dash.  You can deliver when you have time and earn up to $25 an hour!  I've been doing this for less than a month now and it's paying off big time.  Sign up here and you can earn a bonus in the first 60 days!
Create a functional budget.  This is an obvious, but often forgotten part of paying off debt.  Many individuals and couples don't have a truly functional budget to stick to.  It doesn't take much to sit down and list out the mandatory bills, extra expenses, and needs.  You can easily find places you can eliminate spending (morning coffee, movies out, take out, etc.).  Once you look at a truly functional budget, you can streamline your expenses, focus more toward debt and savings, and use your income effectively toward your debt repayment.
These ways to significantly lower your debt this year will create wonderful changes in your financial life for years to come.
And of course, I'm all about using coupons to free up money for somewhere else in your budget.  Challenge yourself to use coupons for an entire month and put aside the money you saved with your coupons.  Then use it to pay off debt.  You will be amazed at how quickly that money will appear!
How have you been able to lower your debt?