This post is Sponsored by LuguLake but my opinions are 100% my own!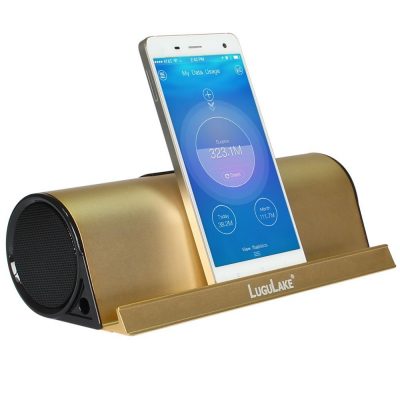 We are a houseful of people who love music.  And we have it on a lot, especially my daughters.  A few years ago, an aunt bought the girls each a boom box.  I will admit, I laughed when I saw it because it seemed like such an out of date type of gift.  However, the girls were thrilled!  One went upstairs and the other went in our family room.  Can I just tell you that they use that boom box all the time!!  It's crazy how much these girls love music and love to dance around or just play with it on in the background.
They also have iPods.  And my husband and I have Android phones.  All of which have music on them.  And while we do have docking stations that play music for the iPods, they aren't portable or Bluetooth so I can't play the music on my phone, on these docking stations.   I've been looking for a wireless bluetooth portable speaker since before the holidays but they can be pretty pricy so I've yet to purchase one.
And then I received an email from the LuguLake asking if I wanted to review one of their Portable Bluetooth Speaker.   After checking it out online, and reading the reviews, I figured this would be perfect for our musical needs.   It's not as small as some of them I've seen, but it's also not every big and very portable.
New Bluetooth 4.0 Technology allows you to connect wirelessly to the LuguLake from up to 33 feet away or with a 3.5mm audio port for non-Bluetooth devices. You can seamlessly stream and share music, movies and games anywhere. Easy to pair – No code/pin needed.
 About LuguLake Bluetooth Speaker
Built-in-Lithium-ion rechargeable battery provides up to 10 hours of playtime, which makes it an excellent solution for those who are constantly on the move. When it's out of power, simply connect the included charging cable to your computer's USB port to recharge.
Premium Sound with Bass Enhance Technology. Two powerful 3 watts drivers deliver an impressive, high-definition sound. Enjoy music and movie at any moment.Added functionality – a built-in cradle, the solid and durable cradle firmly holds your iPad and iPhone at a comfortable viewing angle. even if the device is kept inside a bulky protective case.
When the box arrived, I noticed that the package contained along with the LuguLake Portable Bluetooth Speaker a micro USB cable, a 3.5mm audio cable and a small instruction manual.   The battery is built-in and chargeable either by your computer with the USB cable, or with a plug that has a micro USB.  It doesn't come with an actual plug which is what a lot of the reviews online complain about.   However, I don't have a problem with that because we have a TON of micro USB charging plugs from other devices.  So really I don't need it and chances are you don't either.   So I don't see a big deal with that part.
It said to charge it fully the first time you use it for about 6 hours.  Before I did that, I plug it into my computer to give it some power and tried it out quickly to see if my phone would pair with it easily.  I turned on the Bluetooth on my phone and scanned for available devices.    The LUGULAKE-01 showed up immediately and paired with no problems at all.  I  then pulled up my music and it worked perfectly.
The speaker doesn't come with a volume button, you must use the volume on your device, but again, I'd much prefer it to be that way because if I'm pulling up them music, I can control the volume at the same time.  Once I checked it out I let it charge for 6 hours and was then good to go.
We have used the speaker several times and have paired a few different devices to it and haven't had any problems at all.  We are happy with the sound quality and range.  It works great and is very portable.  We haven't used it for every long periods of time at once so as for battery life, we aren't too sure of it but that being said, it was a while before we needed to charge it again.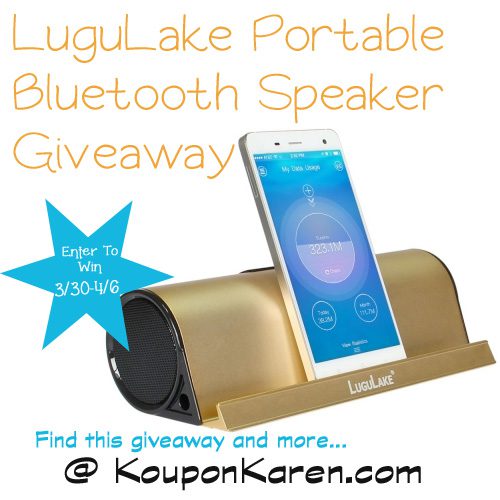 (1) Koupon Karen reader will win a LuguLake Portable Bluetooth Speaker!!!

To enter the giveaway, use the Giveaway Tools widget below. Email and feed subscribers will need to click-through to the site to enter the giveaway.
As a reminder, comments left on Facebook or Twitter will not be included. You must follow the instructions on the widget about the proper way to enter. Of course Facebook is in no way associated with this giveaway!
If you are looking for more giveaways, be sure to follow my Fun Giveaways Pinterest board!
Disclosure: I received a Free product for review. My opinions are 100% mine.