Luscious Cherry Desserts for the summer time or any time of the year!
Dessert…. my family loves dessert!  They'd have it before dinner everyday if they could!   I didn't grow up eating dessert after dinner but I know a lot of people that did.  I'd rather they fill up on nutritious food first and then we can talk about dessert!  They disagree.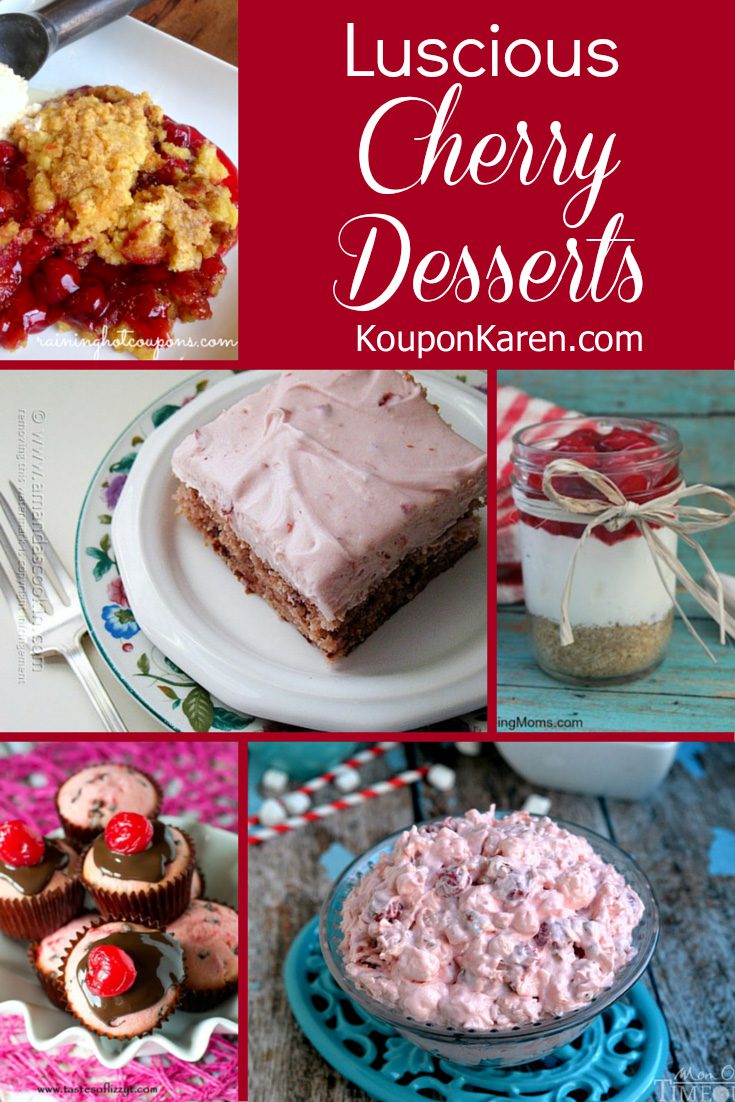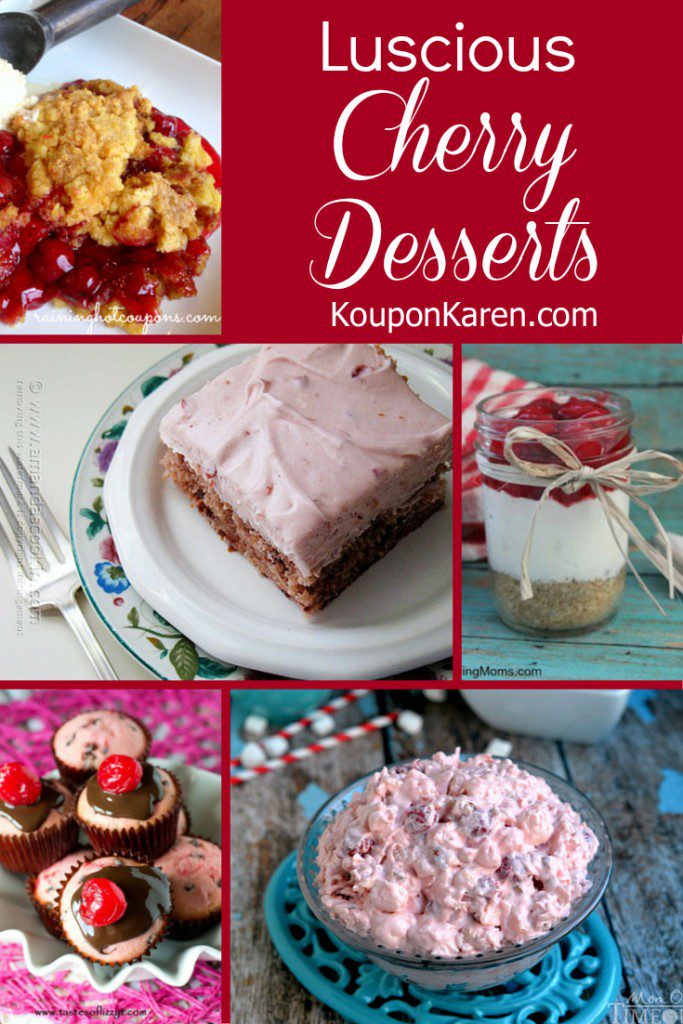 Luscious Cherry Desserts
I've compiled 10 Luscious Cherry Desserts for you to try this year.
Cherry Fluff | Mom on Time Out – Just a few ingredients and you'll be ready to grab this and go to your next cook out!
Cherry Cheesecake In A Jar | Stockpiling Mom – This is perfect to give to your friend with a sweet tooth!  Or make for a party and your guests will be quite impressed!
Chocolate Covered Cherry Muffins | Tastes of Lizzy T – Cherry muffins?  I'm making these for breakfast this week!  I bet the kids (and I ) will fall in love!
Cherry Pie In the Crock Pot Recipe | Raining Hot Coupons – I love using my crock pot in the summertime and I will try this recipe.  It can cook while we are all in the pool for the day!
Cherry Almond Crumble Tart | Delightful E Made – This is the perfect recipe for when Cherries are in season this summer!
Cherry Mascarpone Crepes | Cassandra Monroe – My mother loves Mascarpone cheese so I'm going to make these for her!  And of course some for my family to try as well.
Coconut Cherry Macaroons | Food, Family and Travel – Macaroons are good enough on their own, but can you imagine with some new fresh cherries?  YUM!
Delicious Mini Cherry Pies | Home Life Abroad – These mini cherry pies are perfect to make a batch up and then freeze them for a special treat!
Chocolate Cherry Chunk Cookie Bars | Snappy Gourmet – These look good even without the chocolate on top, but I wouldn't leave it off!
Cherry Cake With Cherry Cream Cheese Frosting | Amanda's Cookin – I think I want this for my birthday this year!  And I'll make cupcakes for the kids!
Which of these Luscious Cherry Desserts will you try first?