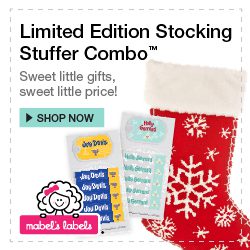 Mabel's Labels Limited Edition Sets – Stocking Stuffer Combo and Holiday Return Address Labels
You all know how much I love Mabel's Labels? They have the best labels and they stick to everything, and they even stay stuck!  I use them for so many things including labeling bowls and dishes I lend to other people or bring to get together's,  the girls coats, their water bottles, their sneakers and even their backpacks.
From now until 12/31, Mabel's Labels is offering two limited editions – Stocking Stuffer Combos and Holiday Return Address Labels! The Stocking Stuffer Combos make the perfect stocking stuffer, party favor, and personalized add-on to other gifts. Best of all, you only pay $30 for 6 sets!
The Holiday Return Address Labels are adorable and come in a variety of exclusive limited-edition Holiday designs. Don't miss your chance to shop these great offers!
These limited edition labels will only be around until 12/31/13.