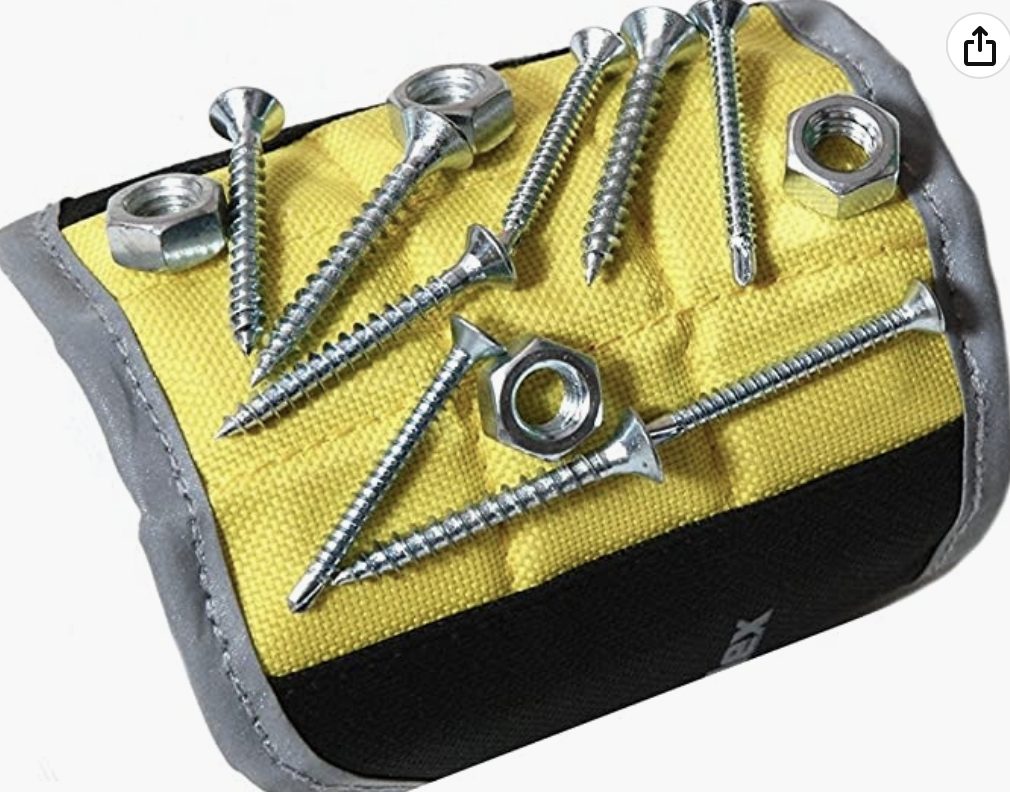 Last Christmas, Karen bought me this Magnetic Wrist Tool Holder.  And I have to be honest, I was pretty excited about it.  I'm the handyman around the house and trust me that's not a complaint, I really enjoy doing things like that.  But I'm always dropping the nails or screws because of my fat fingers.  This was perfect for me and I've used it several times over the last year so I absolutely think you need to get this for the man in your life.
AND RIGHT NOW … you can get a GREAT Deal on it.  Bargain Bob has arranged with Amazon to not only save you $5 on this Magnetic Wrist Tool Holder, but you'll also get a FREE Universal Socket Tool with Drill Adapter!  (OK, maybe Amazon didn't do this just for me, but maybe they heard about my takeover and knew my wife bought me one of these and knew I loved it and did this for me!  Let's go with that!)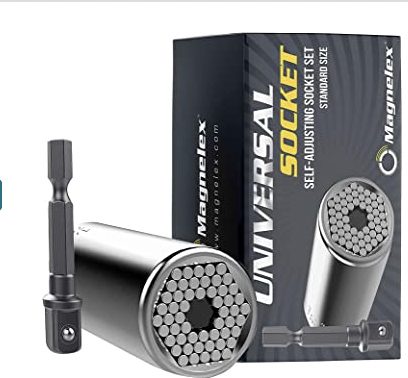 Ok, here is how you get this great deal.
Then below that, you'll see this: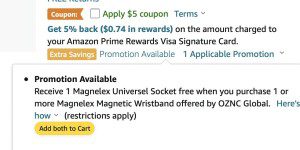 Click on Add both to cart,
Go to your cart and you'll see the price of the Universal Socket Tool has been deducted!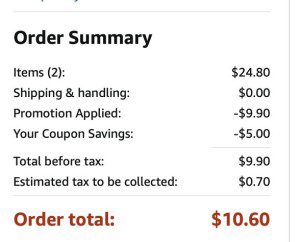 "Arm Your Handyman with this magnetic wrist tool holder by Magnelex. Screws, nuts, bolts, nails, and drill bits are right at his fingertips for DIY projects, auto repairs, and construction work. Our magnetic tool wristband is an essential addition to tools for men who love to build and renovate."
I got this for my husband for a stocking stuffer.  He LOVED it.  Honestly, I had never seen a magnetic wrist tool holder before and neither had he.  He hung some curtains for me the other day and he used it and it worked great.  The magnet was a perfect strength and it held onto all the screws so he didn't drop any of them.  He found it extremely handy and he told me it was one of his favorite Christmas gifts.  Never mind the fact that I got him a tablet, but we won't go there!  LOL
It fit his wrist perfectly too. It is adjustable to all wrist sizes.  There are a lot of different kinds out there, but this one worked well and it's under $15 shipped with Amazon prime.
You can buy it on Amazon here!
Don't have Amazon Prime?
That's ok you can Try Amazon Prime 30-Day Free Trial to see what it's all about! If you decide it's not right for you, then you can cancel before your trial is up and pay nothing.
Some of my favorite benefits of Amazon Prime:
* Instantly watch thousands of movies and TV episodes
* Borrow Kindle books
* Get unlimited FREE two-day shipping (no minimum order size)
Disclosure: I did not receive any compensation for this post.  I purchased this item with my own money.  There are affiliate links in this post and if you purchase this, I will earn a small commission.  My opinions are my own.