I've made many photo books and all from different companies.  I love photo books for special occasions and I make one for each of my daughter's birthdays and christenings.  I also love to scrapbook and I make Christmas book every single year with no two books ever a like.
Last week, I had the opportunity to make a Mixbook and I want to tell you all about it because I LOVE IT!!
Let me back up a bit and tell you a little about Mixbook and what makes them different.  They print photo books and only photo books.  But these aren't just everyday photo books.  They are digitally scrapbooked photo books!!! That's the part I love!  I've dabbled in some digital scrapbooking and I've even made some photo books from my digital pages but this was the easiest and most beautiful digitally scrapbooked photo book I've ever made!
The first thing I did when I logged onto Mixbook was look through the Gallery of beautiful books
. Each one of those books you can make exactly as you see or change it a bit to make it more personal.  Or if you'd prefer to make something completely different you can make your own book from scratch.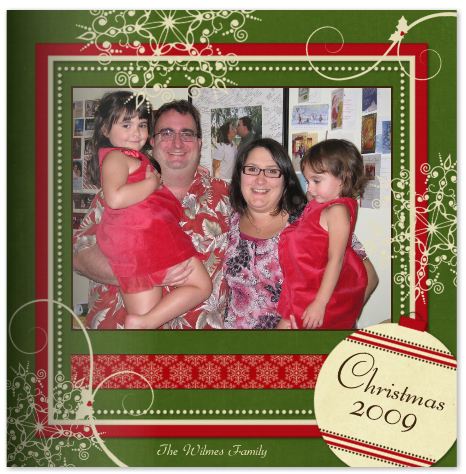 I choose to use one of the Christmas designs to make it easier for me since I fell in love with one.
Here is how easy it was to make my book:
Once I picked out the book I wanted to make, I just clicked on "Start One Like This".
Then I choose the size/shape, square.
Then I choose a theme, which was the one I selected,  I could of changed my theme at this point.  There is an option here to "Give Me a Book that is almost done" too which I really liked.  What this means is it will automatically build you a 20 page books by putting all the layouts in.  This is the quickest way and I decided to give it a try.  I honestly didn't have a lot of time to do it so it worked out great!
Next I had to add my photos.  There are so many options of adding photos.  I could get them from facebook, flickr, picasa, yahoo, smugmug and photobucket or upload them from my computer.  What a great option to have especially since I do put a lot of photos in facebook.   I uploaded the photos I wanted to use.
Once my photos were uploaded, I began adding them to my page by dragging them over to the spot I wanted them.  Once the photos are there, you can zoom in or move them around to get the focus where you want.  You just keep doing this with each page until your book is finished!
You can also change or add some of the text to make it more personal.  You can also change the background on any page and even move the pages around.  It's very customizable and SO USER friendly.  At least I thought so.
Once my book was done I previewed it and made any final changes and then I was done.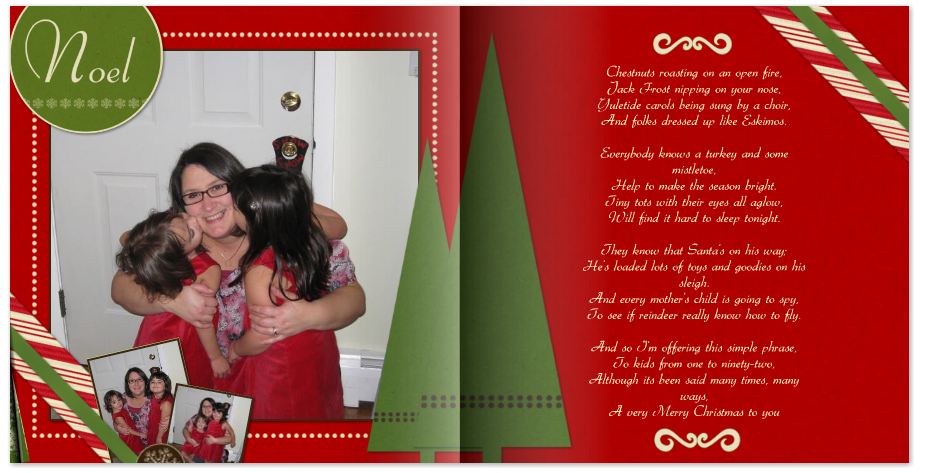 Honestly this book took me just under an hour to make but part of that was from having distractions every few minutes and learning what I could do on each page. The next book I make will probably take me half the time if I decide to have it built for me again.  That's what I loved about this program!!!
My book arrived today and I LOVE IT!  The colors are just as I saw on the site, the book is just like a story book I read to my girls and the pictures are crystal clear.  This is one of my favorite photo books I have.  The quality is great and the fact that it was made in such a short time and now I have a beautiful book to remember Christmas of 2009 is just awesome.
The softcover books start at $6.99 and the hardcover books start at $11.99 and they have a bunch of sizes to choose from.  Shipping starts at $5.99.  These books are very affordable, another thing I love about them.
Guess what?  Mixbook wants you to try out a book for yourself and they are giving Frugal RI Mama readers an exclusive coupon code too! This is a discount they've never offered before and you will not see it anywhere else.
If you spend $50, then take $10 off your order
If you spend $75, then take $15 off your order
If you spend $100, then take $30 off your order
Just use coupon code FRUGAL10 when checking out.  It will take off the appropriate amount according to how much you spend.  This offer is good for 1 week only and will end 1/13/10.
Or if you'd prefer to buy a smaller book, you can get Free Shipping on your order!  Just use coupon code FRUGALSHP when checking out.  That's a nice savings too!
A few ideas for books:
Holiday Book
Year in Review Book
Winter Wonderland Book
Milestone Book – for a baby
School Years Book
Wedding Memories
Milestone Anniversary Book
ABC Book
or a book of everyday events.  The ideas are endless and so are the memories you can create!  Photo books also make great gifts! I've given several myself!
If you make a book I'd love to hear what your thoughts are when you receive it.  I can't imagine you won't be happy, it's a really nice book!
Photobooks gave me a FREE Book to try out their service and review my purchase.  My thoughts and words are my own.