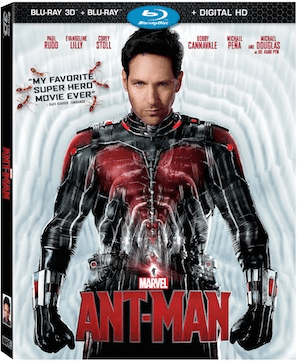 You can add Marvel's Ant-Man to your Home Movie Library Now!
This week Marvel fans everywhere got a nice treat when Marvel's Ant-Man was released on 3D Blu-Ray™ Combo Pack, Blu-Ray, DVD, Digital SD and On-Demand.
Marvel, the Studio who brought you "The Avengers", now brings to life one of the original Avengers — Marvel's Ant–Man. Bring home the epic heist as Ant–man embraces his inner hero and harnesses the unique ability to shrink in scale to save not only the world, but his daughter. Full of both humor and heart, Marvel's Ant–man is the perfect gift this holiday on Blu-ray and Digital HD.
About Marvel's Ant-Man
The next evolution of the Marvel Cinematic Universe introduces the newest member of the Avengers: Marvel's Ant-Man. Armed with the amazing ability to shrink in scale but increase in strength, master thief Scott Lang joins forces with his new mentor Dr. Hank Pym to protect the secret behind his spectacular Ant-Man suit from ruthless villains! With humanity's fate in the balance, Pym and Lang must plan and pull off a daring heist against insurmountable odds. Filled with humor, awesome special effects and exclusive bonus features, this action-packed adventure takes you to new levels of pulse-pounding excitement!
Over the summer I had the chance to see an advanced screening of Ant-Man and the awesome opportunity to interview the stars of the movie.  I loved the movie but meeting the actors was an amazing experience I'll never forget.  You can read all the interviews and also 10 fun facts about the movie here.
Disclosure: I received a Free product for review. My opinions are 100% mine.