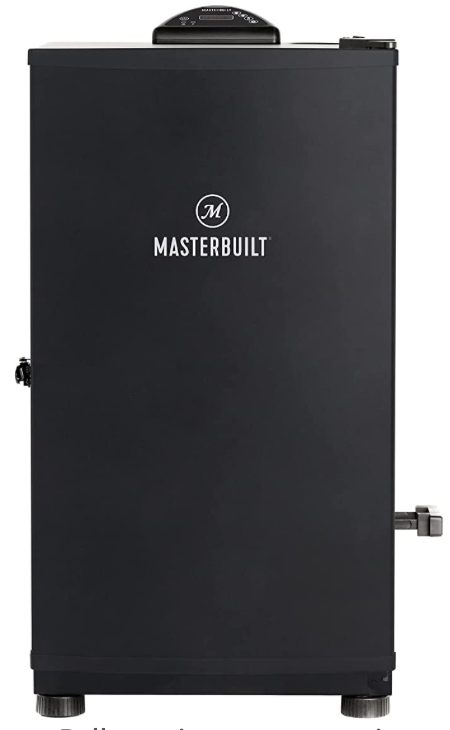 I am a pretty good cook. (I am a much better eater though.) I like to try new things. I have wanted to learn how to smoke for a while, so Mrs. Koupon bought me this electric smoker for our first anniversary back in February. I have very much enjoyed learning how to smoke using it. It's easy to operate. There was minimal assembly. It's easy to clean, and doesn't take up a lot of room in storage. It's relatively inexpensive compared to other models which can cost thousands. It came recommended by two friends who are great smokers. I have made some disappointing disasters with it such as a roast that came out like shoe leather. But I have made some unforgettable meals such as corned beef and bacon. I redeemed myself with the roast by making a near perfect one later. I have had mixed success with chicken, but pleasing teenagers is impossible. But I digress. Tomorrow, I am going to smoke a turkey for the first time. Don't worry, we are doing a second traditional turkey in the oven just in case. Karen will have to let you know how the turkey turns out!
Get it HERE
Want more Amazon Deals?  LOOK HERE.
Amazon Prices change often and promo codes sometimes end sooner than they say.  This is the price as of the time I'm writing this post and the promo code worked when I tried it.
Don't have Amazon Prime?
That's ok you can Try Amazon Prime 30-Day Free Trial to see what it's all about! Once you try it out, you can cancel before your trial is up and pay nothing if you decide it's not right for you.
Some of my favorite benefits of Amazon Prime:
* Instantly watch thousands of movies and TV episodes
* Borrow Kindle books
* Get unlimited FREE two-day shipping (no minimum order size)
As an Amazon Associate I earn from qualifying purchases.