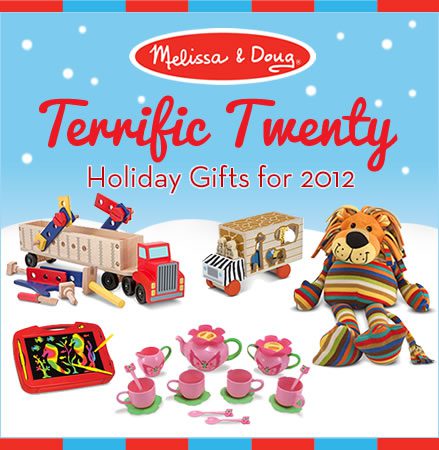 I'm a HUGE fan of Melissa & Doug toys and so are my girls.  We have almost all of their pretend food play sets and use them on a regular basis.   I can't tell you how many wooden cupcakes and pizza slices I've consumed over the past year!!  They are made so well and last forever and you can easily pass them down to friends after!
The holidays are just around the corner, so you know what that means….time for the Melissa & Doug "Terrific Twenty" list! This list compiles the "best of the best" holiday gifts for the 2012 holiday season, and we're excited to share it here with you!
To celebrate, they are having a "20 Days of Terrific Twenty" Giveaway on the Melissa & Doug Facebook page! Every day they will be giving away one item from their Terrific Twenty list to at least one of  their lucky Facebook fans!