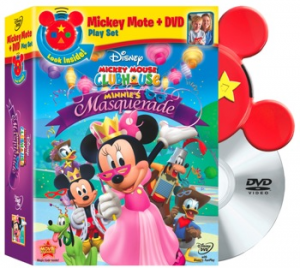 On February 8th Walt Disney Studios Home Entertainment released Mickey Mouse Clubhouse: Minnie's Masquerade on DVD.  Parents and their preschoolers are invited to join in the ultimate masquerade party with Minnie, Mickey and pals in a fun-filled collection of Mickey Mouse Clubhouse latest episodes that celebrate themes of friendship, teamwork, sharing and problem solving. Mickey Mouse Clubhouse: Minnie's Masquerade is the perfect gift to dress-up your Valentine's Day!
This latest release features four playful Minnie-themed adventures previously seen on the Mickey Mouse Clubhouse TV show, a never-before-seen episode, and a free paper mask with festive embellishments that kids can personalize. And as a special option for consumers, Disney has packaged a version of the DVD to include the exclusive Mickey Mote – a child-friendly hand held remote control, shaped like Mickey ears, that takes children's viewing experience to a whole new level of play. The DVD + Mickey Mote Play Set is the ultimate value for moms and equally fun and engaging for kids!
Mickey Mouse Clubhouse: Minnie's Masquerade starring Disney's Fab Five — Minnie, Mickey, Donald, Goofy and Daisy – takes viewers on an all new adventure as they dress-up in their favorite costumes for Minnie's Masquerade Ball. In this episode, Minnie needs some help getting everything ready for her party including making royal crowns for their costumes, searching for Sir Goofalot's lost shoe, stringing up paper lanterns and much, much more. At the ball, Professor Von Drake hosts the great Clubhouse Costume Show and gives out prize ribbons to all the friends who have dressed up in some funny and fancy costumes. All it takes is a heaping helping of imagination…and the right Mouseketools.
How does The Mickey Mote work?  It uses infrared wireless technology and may not be compatible with all devices. But it's super easy to set up for the parents and super easy for the kids to use.  My girls love using it so much we had to get a second one.  They feel like they are part of the movie since they are making choices within the movie.  It's pretty neat and a great way to get them in interact, which means they have to pay attention.  They are using their imaginations, paying close attention to detail in order to make the choices and working with colors and shapes.  So they are learning and play as they are being entertained!  Great for when mommy has to make a business call without interuptions.  It really captures their attention.
Here is a clip:
About Disney's Exclusive Mickey Mote:
Disney's Mickey Mote works with any Disney Preschool DVD that includes the Discovery Mode™ feature – an interactive "Watch & Play" feature on the DVD. All parents have to do is program the remote control – there's an easy and quick set-up guide in each DVD- and select the Discovery Mode feature on the menu screen. Within minutes, kids will be easily responding to questions, throughout the story, about scenes they just watched by pressing one of four color-coded buttons on the device — a yellow star, green circle, orange triangle or blue square – to click in their responses. Discovery Mode features include two levels of play, which provides more challenging questions as the child grows. The Mickey Mote can be used with any Disney Preschool DVD that includes the Discovery Mode feature.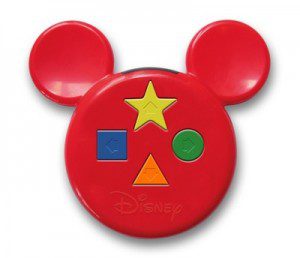 BUY IT
Product Price: $29.99 for the DVD & Mickey Mote or $19.99 for the DVD.
Purchase Information: You can purchase Mickey Mouse Clubhouse: Minnie's Masquerade with Mickey Mote
or Mickey Mouse Clubhouse: Minnie's Masquerade DVD
both on Amazon and where videos are sold.
Disclosure: I received the above product free of charge to facilitate my review.  This did not influence my post and as always my words are my own.