I posted earlier how the Crest Pro-Health Night was ringing up on Clearance and giving the ECB's too.  While I was there I noticed there were a lot of Deodorants 75% off too but I didn't have my coupons with me so I had to take another trip to CVS.  I just got back and boy did I score some good deals.
Here is what I got: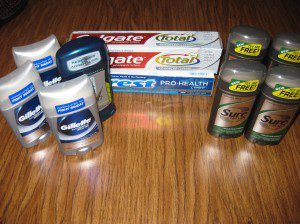 (3) Gillette Invisible Solid Cool Wave, On Clearance $1.12 each
Used (1) $4.00/2 cpn in P&G 02/21/10 insert
Final Cost:  FREE + $.64 overage
(4) Sure For Men Invisible Solid Mountain Frost, On Clearance $.75 each
Used (2) $0.75/1 Sure Deodorant printable (IE) or printable (FF)
Used (1) $1.50/2 Sure For Men coupon in SS 02/28/10 insert
Final Cost: FREE
(1) Degree Men Absolute Protection, On Clearance $1.20 each
Used (1) $1.25/1 Degree Men Deodorant printable (cashier adjusted to $1.20 on this one)
Final Cost: FREE
(1) Crest Pro Health Night, On Clearance $2.45
Used $1.50 RP 03/21/10 insert
Final Cost: $.95
Got $2.00 ECB's
(1) Colgate Total, On Sale $3.99
Used $1.00 coupon from April 10 All You
Final Cost: $2.99
Got $3.99 ECB's
Total: $40.00
Saved: $36.70
Final Cost: $3.30
Got $5.99 ECB's to spend next week
Total Savings of 92%
Needless to say my husband is all set with Deodorant for a LONG time!
Not all stores will Clearance products at the same time so YMMV on this one.