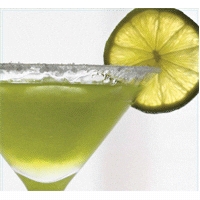 It's summertime and  my husband and I enjoy entertaining.  We don't do it as much as we did when we were younger and had no kids so usually it's just him and I.   When it's warm outside there's nothing better than a really yummy cold drink but with two kids around, drinking an alcoholic beverage isn't the thing we can do all day long!  That is when a non-alcholic ice cold beverage comes in handy!
Enter the Key Lime Mockarita!!  One of my husbands favorite desserts is Key Lime Pie so we knew we'd love this drink.  We grabbed some Morton® Coarse Kosher Salt to top the rim of this yummy drink.  The only thing we had to buy was some Key Lime Juice, which we didn't have and now that we do, I will use it in cooking as well! Yum!!!
We always have Margarita mix on hand and happened to have some Sierra Mist soda left from our summer party.  They were pretty simple to make.  Just combine 2 0z of Margarita mix, 2 oz Sierra Mist Soda (or any citrus flavored soda will do) and a dash of Key Lime Juice in a drink shaker with ice, and shake well.  Then wet the glasses with Lime juice and then dip into a plate of Morton® Coarse Kosher Salt.  Add ice to each glass and top off with the Mockarita mixture.  That's it!  So easy and so good.
I had no idea that Morton Salt made so many different kinds of salt.  We've only purchased the table salt and kosher salt but they have a ton of varies including Season-All ,  Garlic Salt, Ice Cream Salt, Sea Salt and more!
You can print a coupon for $.55/1 Morton Salt Season-All as well!
Disclosure:  This post is sponsored by Morton Salt but my thoughts and my words are my own.