Beach backpacking can be a fun activity for the entire family.  Especially now when people aren't traveling very far.  If you happen to live in an area along the coast, you can do this without even leaving your state!  But there are certain things you will need, especially if it's an overnight hike! Once a beach hiker has its itinerary set and obtains knowledge of their chosen trail's tides, it is time to gather the pertinent supplies for their adventure.
Must-Have Beach Backpacking Supplies
Beach Backpacking Supplies: Backpack and Tent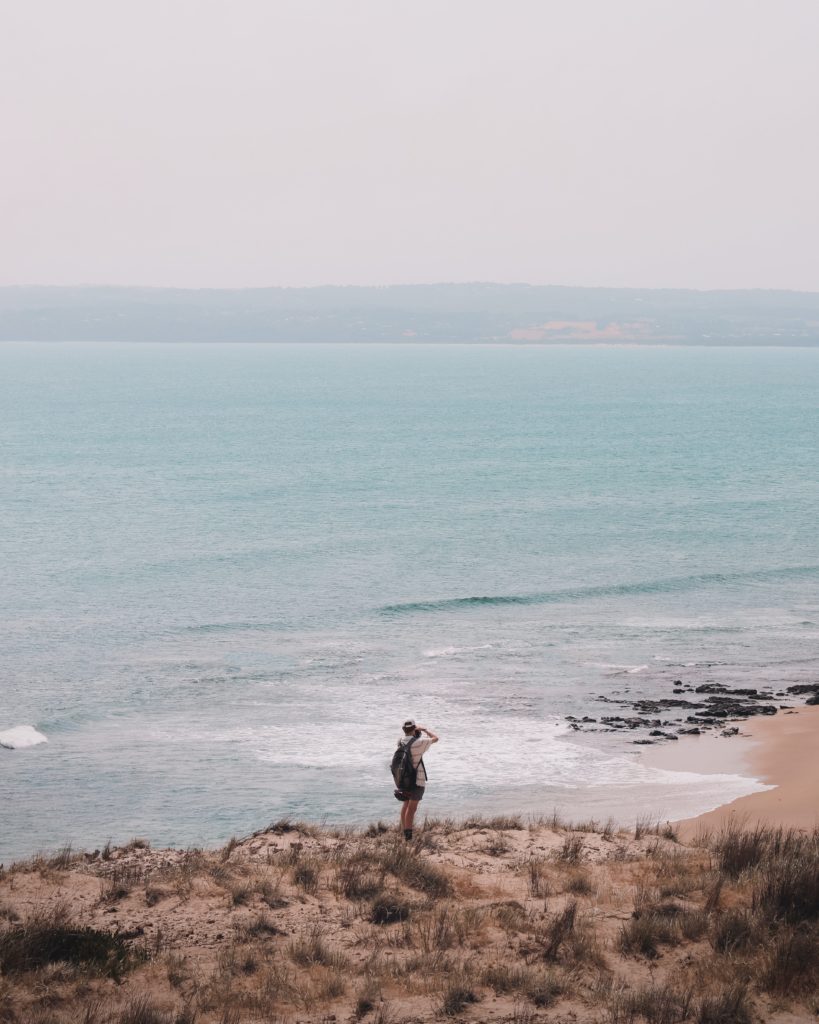 Pack Light. A suitable, real backpacking backpack is necessary for maximum comfort during the long miles along the sand rocks. A backpack with a hip belt and soft, internal frame such as this North Face Backpack is essential to carry supplies required for a two to three-day trip. Waterproof or water-resistant is also a good feature to keep supplies dry from ocean drizzle.
A lightweight, two-person tent is ideal for an overnight or multi-night trip. The lighter and easier to set up the better, as hikers are likely to be exhausted after a long day on their feet.
Beach Hiking Clothes and Shoes
As with normal backpacking and hiking trips, layers are the name of the game. Pants that zip off into shorts and lightweight microfiber shirts with wicking still rule when hiking along the coast.
Sturdy, waterproof boots are also a necessity for the beach backpacker. Another helpful item is a pair of gaiters that help keep sand and rocks out of the hiker's boots. Fingerless or convertible gloves help keep hands warm from ocean wind while still allowing the ability to unzip a backpack for a mid-hike snack. Don't make the mistake of wearing too many clothes as the hiker is likely to get warm while walking, despite cold temperatures. Know the weather forecast before heading out but also bring clothes for unforeseen circumstances.
Bear Canister or Bag and Rope and other Beach Backpacking Safety Items
Even if the hiker is on the beach where bears are unlikely to roam, it is necessary to bring a bear canister or a plastic bag and rope to tie up and hang food and trash. This will protect the food from any wildlife that may come ambling along in the night looking for a snack.
Other safety items include a limited first aid kit, whistle, and pocket knife.
Camping Supplies for the Beach
Since packing light is essential, it is necessary to pack only the most needed camping items for a beach backpacking trip. Canned fire gel makes for an easy cooking fire in the beach winds among wet driftwood. A spork and bowl are enough for one person to eat off of and there is a variety of freeze-dried camping foods available that won't weigh down the load. Bring a water purifier or purifying tablets and collect water from a freshwater stream.
The use of Gators, Fire Gel, and other normal backpacking supplies will make a beach backpacking trip a scenic and fun trip.
Check out all our Summer Fun Posts!