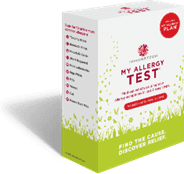 This post is Sponsored by MyAllergyTest but my opinions are 100% my own!
I had terrible seasonal allergies as a child and even through high school.  I eventually grew out of them, I guess?   I am not sure if that's really what happens but as I went through college I didn't suffer from them much anymore.
Until this summer.  We moved last year and now we live in the city and in a neighborhood surround by neighbors and yards and lots of green and colorful 'stuff'.  I love it and it's all beautiful.   But when everything was in bloom earlier this spring boy did I suffer!  It's seriously been YEARS since I've dealt with allergies and it wasn't fun.
I'm guessing it's because we moved into a neighborhood that was in full bloom in the Spring but I wasn't really sure.  I had no intention on finding out what the cause of my allergies were  until I heard about the MyAllergyTest®  which is an at home Allergy Kit that you can use to find out what you or a family member, are allergic too!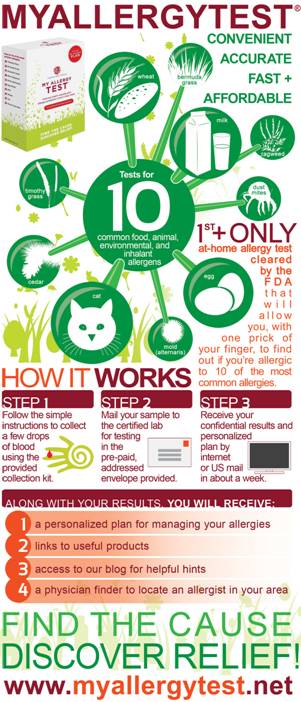 About MyAllergyTest®
If you are someone who suffers from allergies, chances are you may not know for sure the exact cause of those allergies.  Rather than suffering, living on allergy medications without knowing what triggers your allergies, or worrying you may have to get rid of your beloved pet cat, it's time to find out with MyAllergyTest®.  It is the first and only at-home allergy test that will allow you, with one tiny finger prick, to find out if you are allergic to any or all of the 10 most common allergens it tests, including specific foods, animals, inhalants, or environmental allergens. In just three easy steps, MyAllergyTest provides the information and awareness needed to help you stop suffering from allergies.
MyAllergyTest provides everything you need to get this important information, and the cost of the kit includes the components for the collection of your blood sample, mailing it to the lab (postage paid), your lab test results, and a personalized allergy plan based on those results.
You are probably thinking this is very expensive, right?  MyAllergyTest is available nationwide at Walmart, Walgreens, and Meijer in the pharmacy's diagnostic kit section for a suggested retail price of $49.95. It is also covered under Flexible Spending Accounts (FSA) and Health Savings Accounts (HSA).  I think that's a pretty good price considering that if you had allergy testing done, it would cost a lot more than that just to visit the doctor, let alone pay for the tests.  Of course this isn't going to test you for everything but it can give you a jumping off point.  For more information, visit www.myallergytest.net

(1) Koupon Karen reader will win a MyAllergyTest At-Home Allergy Test!!

To enter the giveaway, use the Giveaway Tools widget below. This is a new widget I'm trying and I hope you like it. Please let me know if you have any questions about it or problems with it! Of course Facebook is in no way associated with this giveaway!
As a reminder, comments left on Facebook or Twitter will not be included. You must follow the instructions on the widget about the proper way to enter.
Disclosure: I received a Free product for review. My opinions are 100% mine.