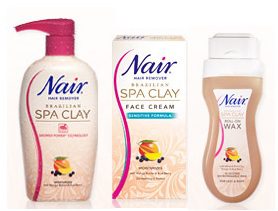 Product Name: Nair Hair Removal Products
Product Information: For smooth skin this summer, Nair is introducing new hair removal products for the face and body that provide salon results for a fraction of the price. Inspired by the beauty secrets and hair removal expertise of Brazil, the line is infused with mango butter, açai berry and mineral-rich clay.
Nair Brazilian Spa Clay Roll-On Wax – Water rinse-able sugar wax for legs and body equipped with reusable cloth strips that are gentle to remove
Nair Brazilian Spa Clay Shower Power Hair Removal Cream – Depilatory for legs and body that removes hair while you shower using Nair Shower Power technology
Nair Brazilian Spa Clay Sensitive Formula Face Hair Removal Cream – Specially designed sensitive face depilatory formula that features a precision tip for hands-free application
Nair Precision Face Roll-On Wax Kit – Mistake-proof water rinseable sugar wax with white lily in a roll-on format
Nair is also teaming up with Condé Nast for the "Nair Brazilian Beauty Challenge," which invites women to highlight great summer style and new fashion trends. One lucky winner will win a shopping spree in New York City with a Condé Nast stylist. Visit NairBrazilianBeautyChallenge.com for official rules of the challenge through July 31, 2012.
About Nair®
Nair® has been a trusted brand since its birth during wartime 1940s. From the beginning, the makers of Nair depilatories have been an innovator, expert and partner in the hair removal category. Starting as a single-formula, single-scent depilatory lotion, Nair has grown into a large portfolio of 25 products serving women and men. As the No.1 depilatory brand on the market, Nair, "Like Never Before," is poised to continue its growth and meet the hair removal needs of all consumers. For more information, log on to www.NairLikeNeverBefore.com.
My Thoughts: I like have hair removal products that are made for specific places on your body. I think they work better that way. Especially in the more 'sensitive' areas! Nair is a name I've known since I was a kid and if it's been around that long then they must be doing something right (OK, I'm not that old but it's still be around for a long time!). I also like that they use natural products like sugar wax to make it easier on my skin.
I'm happy with the results of all these products, but of course it's easier to just go to a salon but if that doesn't fit your budget, these are a great option at a much lower price!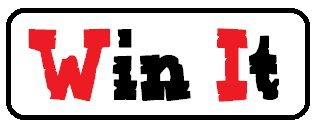 (1) Koupon Karen reader will win a Summer Nair Prize Package.
To enter the giveaway, use the rafflecopter widget below. You can now sign in with Facebook and it will remember you each time you enter another rafflecopter giveaway. Of course Facebook is in no way associated with this giveaway, the people of rafflecopter just want to make it easier for you to enter giveaways now.
As a reminder, comments left on Facebook or Twitter will not be included.
Disclosure: I received the same prize as the winner for review. My opinions are 100% mine.