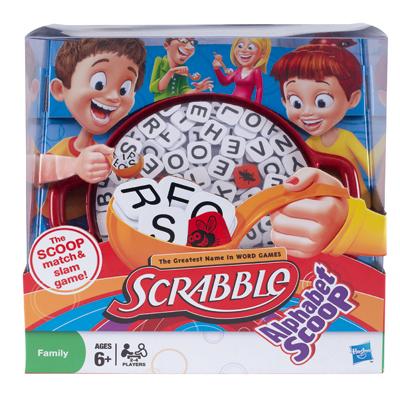 A few weeks ago was National Play-Doh day and now today is National Family Game Night! I love these fun days that makes us stop what we are doing and play. Of course we can do that any time, but with things so crazy it's hard to make the time until we are told to! I know that's how it works for me most of the times!
To make it easier for you to play games with the family, Hasbro has launched the Great Games Trade-In to help families save up to $83 on new and favorite games. Now's the perfect time to trade in that game of Operation missing its "Funny Bone" or the Scrabble game without any "N" tiles for a brand new one!  Nothing beats playing a brand new game and it's especially exciting for parents when they don't have to empty their pockets to purchase a new game.
I'm all about saving money any way I can.
So will you be playing this evening to celebrate national game night?  We will be playing with the Scrabble Alphabet Scoop game tonight which we received for review.  Here's a little bit about the game…
"Scoop, match, slam and score! Stir up your pot of letters and then take a card. Choose a word and start scooping tiles. If you're the first to match your letters, slam on the pot's lid to score. Mix up a fantastic batch of ALPHABET SCOOP fun!  It includes a plastic pot and lid, 4 plastic scoops, 72 word cards, 104 letter tiles and rules.  This game is for 2 to 4 players and ages 6 and up."
Product Price: $19.99
Purchase Information: You can purchase it where games are sold and online at Amazon
.
For more information about Hasbro's Great Games Trade-In, check the Family Game Night Facebook Page.