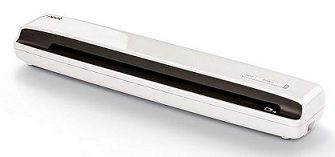 NeatReceipts Portable Scanner Review
The Neat® Company has something new – NeatCloud® and NeatMobile®.  These new products offer many expanded features to users, allowing seamless access to personal information anytime and from anywhere including:
Sync:  When information is added to Neat's Digital Filing System it's synchronized between all devices.  For example, files scanned with NeatDesk or NeatReceipts are saved to Neat's software and automatically synced with NeatCloud.  They are also available to be viewed through the NeatMobile application.
Share: NeatCloud users can share individual files or folders with anyone.  The person with whom they share will be able to view only the selected file or folder.  If a folder is shared, parties will be able to exchange comments on the documents within the shared folder.
Expanded Search:   Neat users can now find information they may have stored in multiple cloud services including Google Docs, Dropbox and Evernote.  Users simply type a search term, pick the services they want to search and access the relevant search results from a single Neat interface.  Searches can be saved and will automatically continue to add files that match that search criteria.
NeatVerify – Images captured with mobile devices may suffer from poor environmental effects such as a shaky hand, bad lighting or image skewing.  For near perfect accuracy, users of NeatMobile can sign up for NeatVerify, a monthly subscription service that ensures that data taken from images is 99% accurate.
I have a NeatDesk and love it but this time I was able to try the NeatReceipts which is a portable version of the NeatDesk and let me tell you this is a very handy tool!  It's small enough to fit right in my laptop bag with my laptop if I am working outside of my office, which does happen from time to time.  It's also great for when someone I know needs some things scanned.  My cousin needs to fax things pretty often from her home.  She's in a wheelchair so she can't leave her house very easily.  Normally my mother will go over there and pick up what she needs and fax it, then bring it back to her.  But with the NeatDesk I can bring my laptop and my scanner with me to her house, scan in what she needs and either fax it or email for her.  It's come in pretty handy many times and I love it.
Now these new added functions make it even better because I can share documents with other people if needed through NeatCloud.  It's amazing what we can do with technology and when working with a group of people, things like this are needed.
Both NeatDesk and NeatReceipts are super easy to use and once I scan my items in I save them as PDF's and I can send them off. It's a great tool and we use it all the time for personal and business.  My plan is to go paperless someday.  I hope I can!
Disclosure: I received a Free product for review. My opinions are 100% mine.