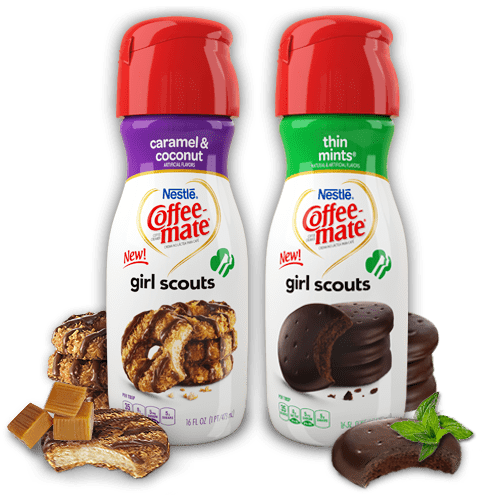 This post is Sponsored by Nestle but my opinions are 100% my own!
Girl Scout cookies…. Did someone say Girl Scout Cookies?   Coffee-mate now has a line of creamers that are based on Girl Scout cookies and I had a chance to try them.  Before I tell you how they are, I want to share some information with you…..
This past summer, Nestlé COFFEE-MATE® announced a nationwide casting call seeking an authentic Girl Scout to star in its television commercial for new, special edition COFFEE-MATE® Girl Scouts® creamers …and a star has been born!
Abby (10 yrs.) from River Falls, Wisconsin has landed the coveted role and will be featured in the new commercial that is now airing on NBC, ABC and CBS networks.   Abby was selected by a judging panel from among more than 600 online and in-person auditions and after being called back for subsequent auditions, this small-town Girl Scout from River Falls, WI, was whisked away to the entertainment capital of the world.  While Abby has previously graced the stage at her local community theater, this was her first time seeing the Hollywood lights and starring in a mainstream commercial.
To view the newly released commercial and behind-the-scenes footage of Abby's journey, please visit www.girlscouts.coffee-mate.com.
How cool is that?  OK so now back to the coffee creamers….. Seriously my two favorite Girl Scout cookies are Thin Mints and Caramel Delights (the coconut and caramel ones, I'm not sure if they are called that anymore)… and that is what they choose to make into coffee creamers.  Now I don't use cream in my coffee anymore but I sure did have these with some coffee!  And they were both amazingly delicious!
The Caramel and Coconut tasted more coconut to me but was delicious in regular coffee and in Vanilla coffee.   I imagine it would be great in a caramel coffee as well!   The Thin Mints creamer was absolutely delicious in a chocolate tea that I had.  ABSOLUTELY DELICIOUS.  My daughter kept asking me if I wanted her to make me another cup because I enjoyed it so much.  It's so cute when they are so helpful.  I make my tea in my Keurig machine so they've learned how to work it for me.
The best thing about these coffee creamers, is they taste so much like the cookies they were made after but they don't have the calories.  There are only 35 calories in a tablespoon of each of them.  Not bad for a yummy treat.

(1) Koupon Karen reader will win TWO coupons for FREE Nestle's Special Edition Coffee-Mate® Girl Scouts® Creamers!

To enter the giveaway, use the Giveaway Tools widget below. Email and feed subscribers will need to click-through to the site to enter the giveaway.
As a reminder, comments left on Facebook or Twitter will not be included. You must follow the instructions on the widget about the proper way to enter.   Of course Facebook is in no way associated with this giveaway!
Disclosure: I received a Free product for review. My opinions are 100% mine.