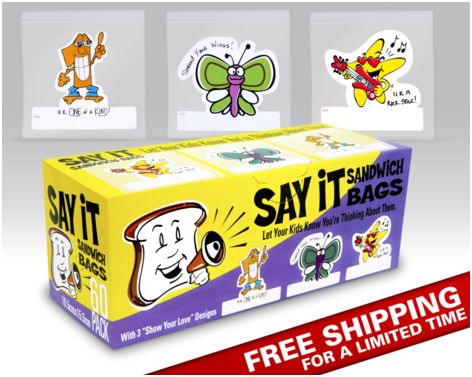 I'm so excited that Koupon Karen readers are among the first to be introduced to Say It Sandwich Bags™.  Say It Sandwich Bags™ were created by the same people who brought you Cool Diaps™.  They are a way to let your kids know you are ALWAYS thinking about them when they are away.  How happy would it make your child to open their lunch box and be reminded of mom?  Especially if they are having a rough time being in school and really missing mom (that would be the younger kids).
About Say It Sandwich Bags™: When making their twin girls lunches for school, product creators and husband and wife team, Paige and Holland always wrote personal and uplifting messages to the girls on the Ziploc sandwich bags with a Sharpie Permanent Marker. When they were hurrying to get the girls off to school (sound familiar?) and ran out of time to write the message they would feel so guilty. So, Paige and Holland decided to create Say It Sandwich Bags™. They took a few of the "inspirational" messages they would write the girls everyday and brought them to life with fun graphics printed on the sandwich bags. They also left a white space where a personalized message by a Mom, Dad or whoever is making a kids lunch could write their own message as well.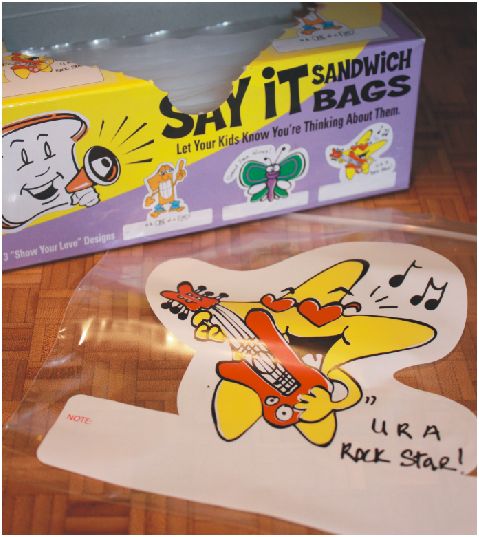 These are the first three inspirational and uplifting Say It Sandwich Bag™ messages:
Spread Your Wings
U R One Of A Kind
U R A Rock Star
The makers of Say It Sandwich Bags are offering Koupon Karen readers a special discount and FREE Shipping to check out their bags!  For a limited time head on over to the Say It Sandwich Bags site and you can purchase Say It Sandwich Bags™ for just $3.99 per box Shipped!  There are 60 bags per box with all 3 uplifting messages mixed in each box of 60 (20 of each message).  That's only $.06 per bag.   A pretty cheap way to brighten up your child's day!!
And if you don't like to use your credit card online, you have the option of paying with paypal which is always a plus for me.  It's a very safe way of making purchases online.