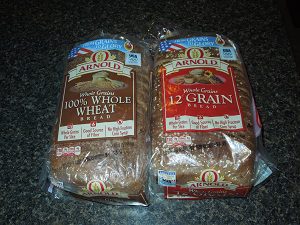 Product Name:  Olympics Entertaining at home with the Official Bread Sponsor of the 2012 Olympics – Arnold
Product Information:  Olympic fever is heating up this summer after the Opening Ceremonies for the London 2012 Olympic Games this past Friday, July 27.  You can enjoy a slice of the London action with a gold medal-worthy Olympic viewing party inspired by our friends from across the pond!  As the Official Bread Supplier of Team U.S.A., Arnold, Brownberry, Oroweat Breads is excited to share the below tasty tea sandwich recipes as well as tips for throwing your own English tea party with flair.
Tips on how to throw an English Tea Party:
Start with the table and arrange a nice tablecloth to set the tone for your food (Gingham is popular in London).
Place your finger foods on a cake stand in the center of the table. Popular finger foods include scones, tarts and tea sandwiches.
When making the tea sandwich, think dainty. It's important start with a good base, like Arnold®/Brownberry®/Oroweat® Health-full® 10 Grain breads. Top with a light layer of condiment, preferred sandwich meat, and a thin slice of cucumber or watercress. Top with the remaining bread. Trim the crusts and cut into quarters.
And remember, events like Olympics viewing parties are not an excuse to disregard healthy eating. Eat nutritiously during all the fun by choosing Arnold®/Brownberry®/Oroweat® Breads to still get fiber and whole grain goodness.
RECIPES
[print_this]
Turkey & Camembert Sandwich (serve on Arnold®/Brownberry®/Oroweat® Health-full® 10 Grain Bread)
1 round of camembert cheese
4 oz of turkey, sliced
2 cups of micro greens
Slice the camembert into slices and arrange on the bottom half of the bread. Layer with turkey slices and top with micro greens.
[/print_this]
[print_this]
Apple & Cheese Sandwich (serve on Arnold®/Brownberry®/Oroweat® Health-full® 10 Grain Bread)
8 oz brie cheese
1 apple, cored & thinly sliced
2 tablespoons citrus honey
2 cups mache lettuce
Spread citrus honey on bread and then layer thinly sliced brie cheese and thin apple slices on bread. Top with mache lettuce.
[/print_this]
[print_this]
Cucumber Sandwich (Arnold®/Brownberry®/Oroweat® 100% Whole Wheat Bread)
10 oz goat cheese
8 oz cream cheese
2-3 garlic cloves, minced
1 teaspoon salt
1/2 teaspoon pepper
1 tablespoon fresh thyme, finely chopped
2 tablespoons fresh parsley, finely chopped
2 teaspoons dill
4-6 tablespoons low fat milk
Place all of the ingredients in a bowl and mix together. Add any additional milk if the spread is very thick. Spread the mixture on bread and top with thinly cut slices of cucumber and baby arugula.
[/print_this]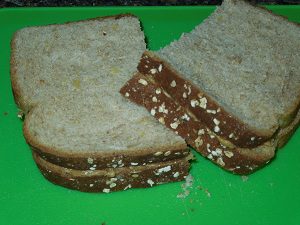 My Thoughts:  I received two packages of Arnold bread for our review – Arnold 12 Grain Bread and Arnold 100% Whole Wheat bread.  Since neither of the girls would eat the above sandwiches, I made my own kind that they would love!
Both girls have been enjoying the Olympics these past few days and they especially love the gymnastics.  While they watched it on the DVR this afternoon, I made them their own type of Tea Sandwiches – Peanut Butter and Arnold 12 Grain bread tea sandwiches.  LOL  They loved it.  And so did I!  We usually have Peanut Butter on white bread but this was so much better!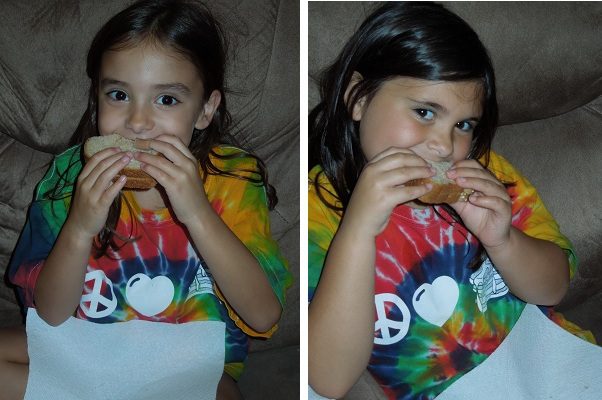 And just so you know, they loved posing for these pictures with the sandwich in their mouths!
Tomorrow we will have Tea Toast with the 100% Whole Wheat bread and jelly.  The kid version of Tea Sandwiches – whatever works, right?
Disclosure: I received some FREE Samples for review. My opinions are 100% mine.