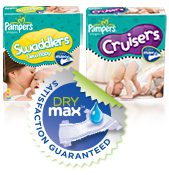 If you aren't happy with the new Pampers Swaddlers or Cruisers Dry Max Diapers you can get a FULL REFUND + $1.00 for postage.
Just send your original receipt, the UPC and your full name and address printed on a 3×5 card to:
Pampers Dry Max Guarantee Offer
PO Box 900082
El Paso, TX 88590-0082
or call 1-800-PAMPERS  to speak with a Pampers representative.
Offer is limited to one refund per household on one pack.  Offer expires 10/31/2010.
thanks Money Saving Mom!