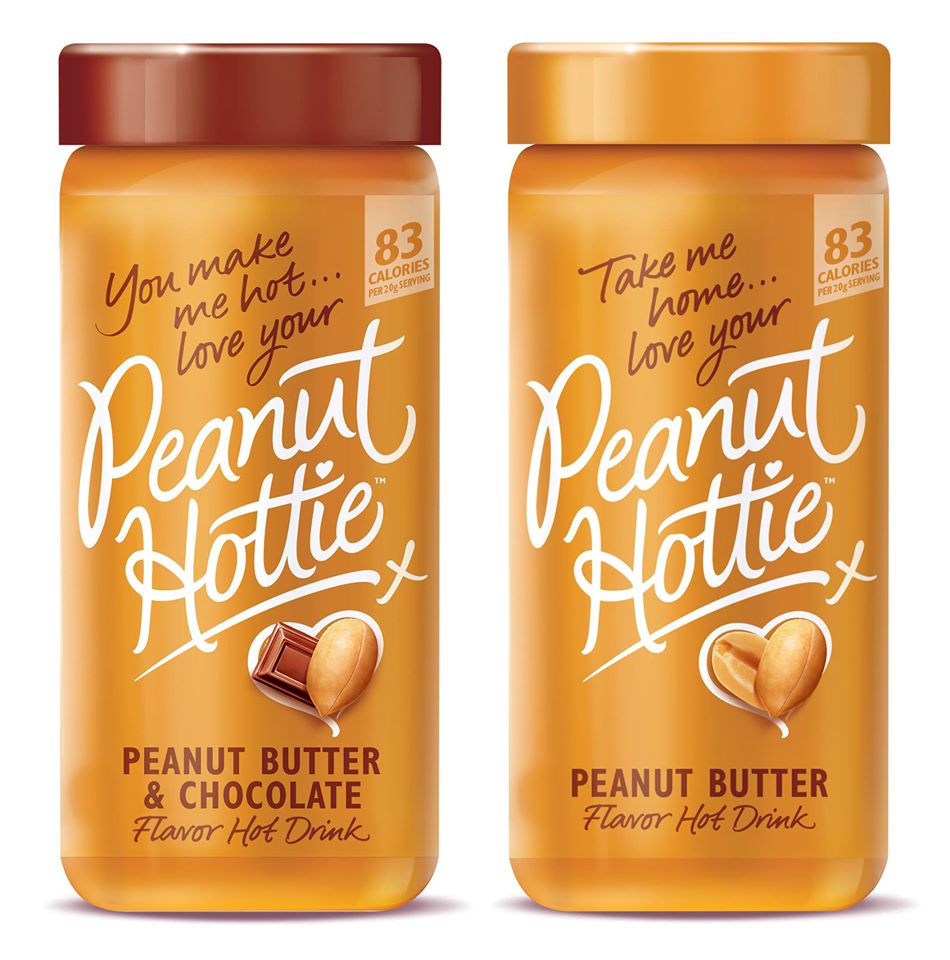 This post is Sponsored by Peanut Hottie but my opinions are 100% my own!
Peanut Hottie – The First-Ever Hot Peanut Butter Drink
An instant hot peanut butter drink may sound a little crazy, but after one sip of Peanut Hottie™, the first instant hot peanut butter drink the world has seen, the only thing that will seem crazy is that no one thought of it sooner. Peanut Hottie™ is the first of its kind – a rich and decadent hot peanut butter drink that has just hit shelves in Wal-Mart stores nationwide. Peanut butter is one of the country's favorite foods and it will now be possible to enjoy a soothing hot peanut butter drink in an instant.
About Peanut Hottie
Peanut Hottie™ brings something completely unique and exciting as an alternative to hot chocolate, tea or coffee. Like instant hot cocoa, Peanut Hottie™ is a powder that is simply dissolved in hot water, but with a delectable peanut butter flavor and aroma that is totally new. At just 83 calories per cup, Peanut Hottie™ is a perfect low-calorie peanut butter fix, or a tasty treat for anyone looking for a caffeine free alternative to tea or coffee.
Lisa Gawthorne, Joint President, Bravura Foods and Peanut Hottie™ co-creator says "There is nothing else like this out there – I know because the idea came to me when I washed down a spoonful of peanut butter with a sip of hot tea and saw how delicious it was. I tried to find a product to recreate that flavor and nothing existed so we decided to make it ourselves. We didn't stop until we had the perfect peanut butter flavor." "Peanut Hottie™ is set to take the country by storm – there is no doubt it will be a very 'hot' new product that people will go 'nuts' for," adds Karl Morris, Joint President, Bravura Foods and Peanut HottieTM co-creator
Want to try it?
Peanut Hottie™ is now available in Wal-mart in Peanut Butter flavor and Peanut Butter & Chocolate flavor in 9.15oz jars, which contain approximately 13 servings, for a suggested retail price of $4.78. Peanut Hottie is caffeine free, suitable for vegetarians and contains no artificial additives or colors.
I'll admit, I was a little skeptic when I first heard about it…. hot peanut butter drink?  We are HUGE peanut butter fans so of course I had to try it.  I was pleasantly surprised.  It's actually quite good and smooth.  Definitely something we'd buy again.
What do you think about drinkable Peanut Butter?  Would you try Peanut Hottie?
For more information, visit www.peanuthottie.com or Facebook.com/PeanutHottieUSA.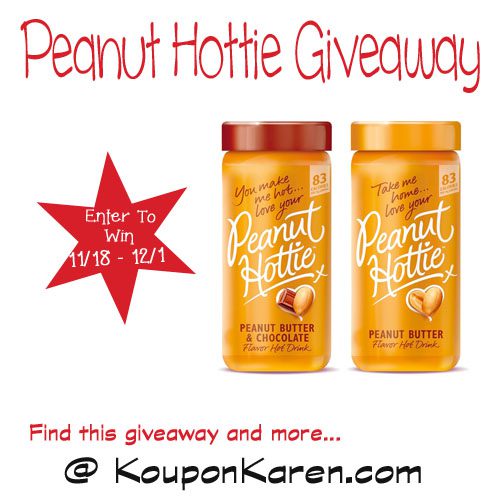 (1) Koupon Karen reader will win some Peanut Hottie!

To enter the giveaway, use the Giveaway Tools widget below. Email and feed subscribers will need to click-through to the site to enter the giveaway.
As a reminder, comments left on Facebook or Twitter will not be included. You must follow the instructions on the widget about the proper way to enter. Of course Facebook is in no way associated with this giveaway!
If you are looking for more giveaways, be sure to follow my Fun Giveaways Pinterest board!
Disclosure: I received a Free product for review. My opinions are 100% mine.