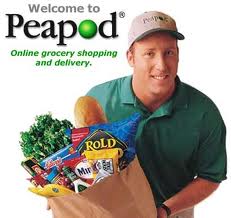 Have you heard of Peapod?  If you haven't you need to keep reading because it can really help you save time with grocery shopping, especially if you are a very busy person.
Peapod is a grocery delivery service that works with Stop & Shop and Giant food stores.  They deliver groceries to your house that you order online at your convenience!  That's the time-saving part.  You can be in the middle of 10 other things while you do your online grocery shopping and then schedule it for delivery during the time you have available to receive your groceries.
They not only deliver your groceries, but they bring them into the house and set them on your counter.  And you can use coupons too – just hand the driver your coupons and then they will be deducted off your total due.  However, you can not pay cash, you must use a credit card ahead of time.
You may be thinking 'what does this cost?' or 'how much more expensive are my groceries going to be?' There is a fee, but I will get to that in a minute.   The sale items are the same as the weekly ad with the exception of a few things.  The first page of the ad is sometimes specific to your area so a few of those items may not be available at the same price through Peapod, but pretty much everything else in the weekly ad is priced the same online.   It's also possible that they might not offer all of the items from your weekly ad on Peapod. The reason for this is they have a separate facility for Peopod orders and they can't carry every single item there, but they have a huge variety of items.
There is a delivery charge.   The minimum order is $60 and the delivery fee for orders under $100 is $9.95, orders of $100 or more the delivery fee is $6.95.   Think of it as gas money you would have spent, not to mention the time you'll save.    With the cost of gas depending on how far you have to drive it may be a wash when you factor in your time. You may even be able to find some Peapod Coupons!
That being said, they are currently offering FREE Delivery for the first 60 days you join, when you spend $100 or more.  That's pretty easy to spend too when doing grocery shopping.  Just enter coupon code FREEDELIVERY in the promotional code box at checkout and receive $6.95 off orders of $100 or more placed within 60 days of your first delivery.*
So check it out and let me know what you think.
About Peapod: With more than 10,000 popular and house-brand products for shoppers to choose from, Peapod's virtual shelves are brimming with all of your grocery essentials plus farm-fresh produce; restaurant-quality meats and seafood; deli meats and cheeses, sliced to order; Kosher, organic and specialty foods and much more! As the nation's leading Internet grocer, Peapod serves 24 U.S. markets and has delivered more than 22 million grocery orders since its founding in 1989.