Like many of my readers, I'm a busy mom of 2 and there aren't many days that I have a lot of down time.  My list of responsibilities is so long that some days I wish I really had a magic wand I would use to get my to-do list done!  But unfortunately I don't have that.   So I tend to shop online as much as I can.  I love shopping online because I can do it in between things, while in line, while waiting for the kids or while laying in bed at night!
Out of all the online shopping I do, I have to admit my favorite thing is doing my grocery shopping online and having it delivered to my house!   I hate grocery shopping.  It's boring and I tend to not always make time to do it.  But it's something that I have to do so I can't really NOT do it.   A store I frequent is Stop & Shop and even though it's right down the street from me (not within walking distance but not that far either) I love using Peapod and have my groceries delivered to my door!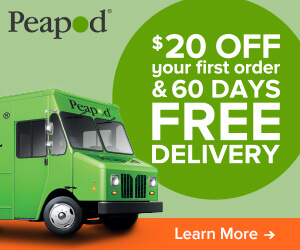 Have you tried it yet?  If not you really must.  Now through 6/30/16, new Peapod users can save $20 off your first order plus get Free delivery for 60 days!!!  Just use coupon code DP20FD at checkout to receive this awesome deal!
How are the prices?  The prices are the same as in the store.  There are sales and you can even use coupons!
Peapod accepts manufacturer coupons and will double up to 99¢ per coupon unless otherwise specified on the coupon, just like if you were shopping at the store!   Plus you can save even more with some exclusive online coupons. While shopping online, you'll see exclusive offers which'll be applied as you add these items to your cart.   These offers are coll because you can't get them in the store, just online!
The website is so easy to use.  The first thing I do is pick my delivery time.  If I don't need my groceries right away, I can save a little bit by picking one of their not so busy delivery times or bigger time window delivery times.  I try to do this as much as I can.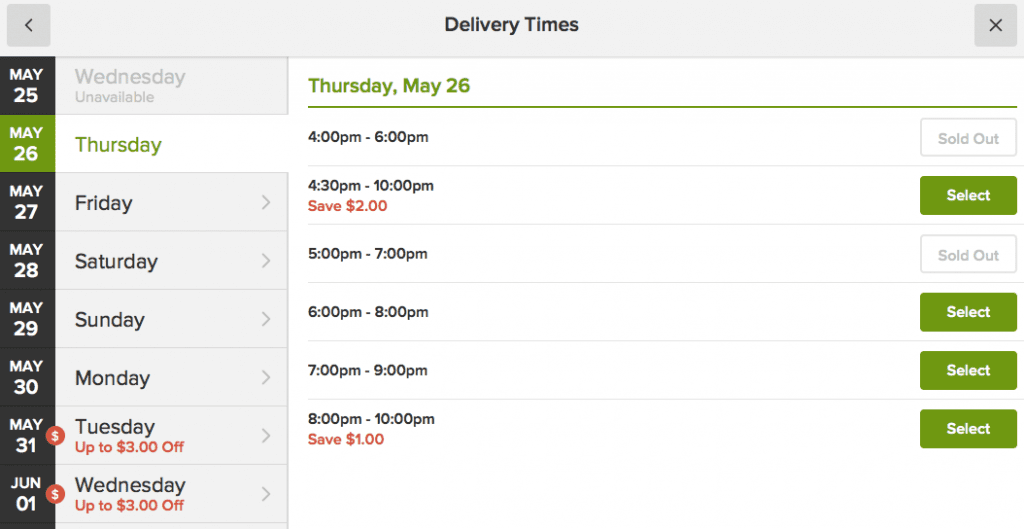 You'll notice in the picture above that some of the times aren't available.  That's because they already have the maximum amount of orders for that time frame.   If you plan ahead for the following week, you can also save a little on your purchase!  Once you select your time, it'll show as reserved.
Then I place my order.   I always buy bulk orders when I order from Peapod since someone else will be carrying it into my house.  Oh did I mention that?  They not only bring it to the door, but they put it on the counter or where ever you'd like it!  How cool is that.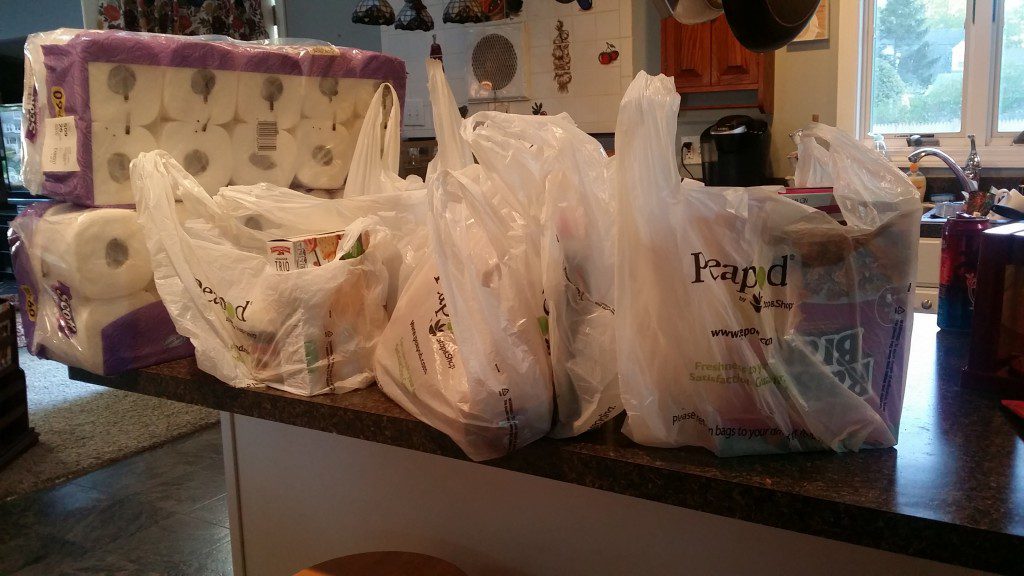 You seriously have to try it!!!
Peapod currently delivers to the following areas: Chicagoland, Milwaukee, S.E. Wisconsin, Madison, Indianapolis, Connecticut, Massachusetts, Rhode Island, New York, New Jersey, Southern New Hampshire, Maryland, Virginia, Washington, DC, Philadelphia, S.E. Pennsylvania and Central Pennsylvania.
Disclosure: This post is sponsored by Savings.com.  My thoughts and opinions are 100% my own!