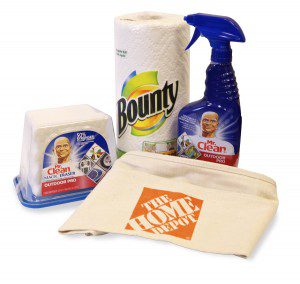 Product Name: P&G and Home Depot
Product Information: Mr. Clean, Bounty and The Home Depot are teaming up to offer you and your readers some great tips and products to help get ready for summer entertaining. Whether you're planning a backyard barbeque or just freshening up your patio or deck, The Home Depot has the products you'll need to help you get the most out of your outdoor living space this summer.
According to a recent Procter & Gamble (P&G) survey, only 25 percent of consumers clean their grills and only 20 percent of consumers clean their outdoor furniture. Yet keeping them clean can help them last longer. So, here are a few tips for getting your outdoor area ready for entertaining:
Maintain Your Outdoor Furniture – Keep it looking good all summer
Inspect your Deck – Give it good once over – check for loose nails, bricks, cracked concrete
Remove the Clutter – Clean up, power wash, remove unnecessary items/debris.
Accessorize – Add in the little touches (i.e., plants, outdoor lighting, lanterns, centerpiece)
Clean your Grill – Give your grill a clean start this season."
Purchase Information: at Home Depot stores nationwide
My Thoughts:  My husband loves Home Depot because almost anything he needs he can find there!  Since the outdoor stuff is his department it's great to know that he can even get things to clean the outdoor stuff there too!  We grill a lot so keeping the grill clean is a must.  And the people at Home Depot are always so helpful to so that makes going there even easier!
Disclosure: I received the same prize as the winner for review. My opinions are 100% mine.