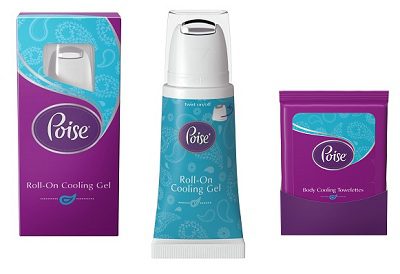 Product Name: Poise Feminine Wellness Line
Product Information:   Menopause is a topic a lot of people shy away from even though fifty million women across North America are approaching or experiencing it. The Poise brand was curious to know how women feel about their bodies during this time.  According to a new study conducted by Harris Interactive on behalf of Poise, they found that two-thirds of women feel anxiety about menopause, which is caused by getting older in a youth obsessed culture.  Moreover, nearly half of women (41%) say that society is not accepting and not aware of menopause, citing a need for more discussion, information and  education and solutions.
Because of this, Poise is launching the "2nd Talk."  Women probably remember having a first talk that explained their changing bodies as they were approaching puberty. However, there is a similar round of changes that women experience during menopause and Poise is launching a new line of products that are specifically geared towards helping women through menopause.  These are the first of its kind for the industry. 
The Poise Feminine Wellness line includes five products designed to work naturally with a woman's body during menopause to provide comfort and help them feel feminine and confident throughout the day.
Body Cooling Towelettes:  Poise* Body Cooling Towelettes provide an instant cooling sensation and refreshment when you experience a hot flash. Gently wipe the towelette on wrists, chest or neck to feel cool and comfortable. Featuring a portable, resealable package, these towelettes are easy to use anywhere you go.
Average suggested retail price: $3.99
Personal Lubricant Poise* Personal Lubricant provides long-lasting lubrication to enhance your intimate experience. This lubricant features an easy to use bottle and is made without fragrance, glycerin or parabens. 
Average suggested retail price: $7.99
Feminine Wash:  Poise* Feminine Wash provides daily freshness with a unique formulation that is pH balanced for your intimate area. Glycerin and paraben free, this gentle wash has a non-irritating formula and will help you feel clean and confident.
Average suggested retail price: $3.99 
Panty Fresheners: Poise* Panty Fresheners have a fresh and clean scent that lasts up to four hours. These discreet, hypoallergenic fresheners stick to the outside of your undergarments so you can confidently go about your day.
Average suggested retail price: $3.99
Roll-On Cooling Gel: Poise* Roll-On Cooling Gel helps you feel comfortable and refreshed when a hot flash strikes. Squeeze the tube and gently roll the cooling gel on wrists, chest or neck for a cooling sensation that lasts up to 10 minutes.
Average suggested retail price: $7.99
My Thoughts:  I haven't hit menopause yet, still have a few years for that (I hope!) but I can definitely appreciate some of these products already, especially during the heat that summertime in New England brings!  I had no idea Poise made these products and part of that is because they are brand new.  We are starting to see some of them on sale in the drug stores so it's a good time to give them a try.
I received samples of the above items and tried a few of them out on occasions that were called for them (hot days).  The Body Cooling Towelettes are great for when you are out and about in the heat, even if you aren't having a hot flash!  We spent the afternoon going through our storage unit this past weekend. We are trying to sort through everything from our move and the day we picked was a very hot day.  So I grabbed the towelettes before we left the house knowing they would probably come in handy.  And they did!    They provide an instant cooling sensation and you wipe the towelette on your skin.  I put it on the back of my neck and it felt really good and worked well.
I had the opportunity to try the roll on cooling gel while I was at BlogHer in NYC recently.  It was very hot in the city and in just about every building we went into.  The roll-on gel works like the towelettes only it's in a the form of a gel and you rub it into your skin.  It's weird at first but also works well in cooling you down.  See how these can come in handy if you are stuck in a warm environment?
I can see how these products can be very helpful for someone going through menopause and I'm glad that Poise recognizes the needs of women and made products to help them through a time that I understand to be "not so much fun".  But it's something we all have to go through at some point or another…. at least the women do!
Have you tried any of the new Poise products?  If you have I'd love to hear your thoughts!
Disclosure: I received FREE Samples for review. My opinions are 100% mine.