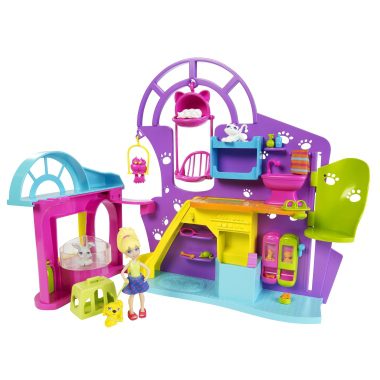 Product Name: Polly Pocket® Playtime Pet Shop™ Play Set
Product Information: This is the ultimate pet shop, where Polly doll can care for and nurture her eight pets until they find new homes! Your animal lover will enjoy helping Polly pick out a new pet to take upstairs on the elevator for grooming and bathing. Once Polly has dried off the pet, she can sit in the swing and rock the sweet animal to sleep. (The nearby lovebirds just might swing in unison!) When she's done, Polly doll can ride down the slide to pick up her squeaky-clean pet and then purchase toys and special treats from the dispensers.
The pet carousel spins with kid power and uses a wheel mechanism to showcase different animals in the window, so prospective pet owners can select their faves. The open-design elevator is decorated with animal-paw cutouts and moves easily between floors with the simple lift-and-lower mechanism. On the upper level, girls can place Polly doll in the shoes and use a lever to move her back and forth as she gives the pet a bath. Then send the pet down the slide or through the secret trap door to land at the register below. When it's treat time, use the real-working dispensers to get some yummy pet snacks — just load the food and pull the lever.
Girls will want to play with and care for all these precious pets! The set includes a doggie, kitty, bunny, three kittens, and two sweet lovebirds. Plus, Polly doll comes with toys, pet food, a leash that attaches to her hand and the pet, and a carrier that fits one pet. Best of all, Polly doll features bendable arms, so she can hold each pet and show her love. Aww, super sweet!
What's in the Box?
Playtime Pet Shop includes Polly doll, eight pets, food, toys, towel, shampoo bottles, cash register, pet swing, and pet carrier.
Comes with Polly doll in an adorable outfit with paw-print dress
Pet shop features a rotating carousel with eight animals
Play spaces include front of pet shop, downstairs, upstairs grooming area, swing, and checkout
Cool and colorful design with paw-print accents
Travel from floor to floor with the working elevator
Lots of nurturing playtime for every animal lover!
My Thoughts:  This is the second Polly Pocket play set that the girls received and I have to say, I liked the first one a little better.  You can read my other review HERE but the one thing that I truly loved about that one is the suction cup bottoms on all the pieces and the dolls.  It made playing with it and moving it around so much easier.
This play set didn't have that awesome feature.  Don't get me wrong, it's a nice play set and very functional but that one feature made a huge difference to their play.
However, I don't think my girls would agree with me. The absolutely loved this one as much as the other one. The suction cups didn't seem to matter to them because this one had pets and they long for a pet and now have it in their play set.  They set up shop right along side the other Polly Pocket set and played with them together.  So it all worked out well.
This set is cute and very interactive with the pet snacks that come out of the holder, the leash that fits in Polly's hand and the carrier to hold the pet.  It's a very nice set and the spent hours with creative play.  We've found a home for both sets so they can continue to play with them together so all is good in their world.
We also received a fun Polly Pocket DVD which the girls loved because then she became alive to them and that always makes it more fun.  Great job Mattel!
Cute gift for girls ages 4 and up and perfect for the upcoming holiday!
Disclosure: I participated in a campaign on behalf of Mom Central Consulting for Mattel Polly Pocket. I received a product samples and a promotional item as a thank-you for participating.